The name chosen for the project seeks to highlight the colonial dimension embodied in the hyphen, as a sign designed to connect – but which in actual fact separates – Yaffa from the Jewish city which has swallowed it ever since their forced unification as Tel Aviv-Jaffa in 1949. The modest-looking hyphen encapsulates violent and contradictory elements, such as erasure and concealment, continuity and uprooting, inheritance and appropriation. The city's destruction and erasure were used as a starting point for the artists participating in the project. These artists will call attention to various locations in that space – places that used to be here, whose remains we often encounter (and more often overlook) – and giving the ruins, abandoned houses and stone structures a life and meaning different than those familiar to most.
The project marks the 67th anniversary of the Nakba, on May 15. Between May 14 and 16, it will include artistic interventions in private homes from which Palestinians were expelled in 1948, a symposium, and alternative tours in Jaffa, inspired by the mainstream annual "Open Houses" festival organized by the Tel Aviv-Jaffa municipality.
====
EXHIBITIONS IN OPEN HOUSES
Please note that the exhibitions will open only on the hours stated below
Anisa Ashkar – Hands Weaving Fire*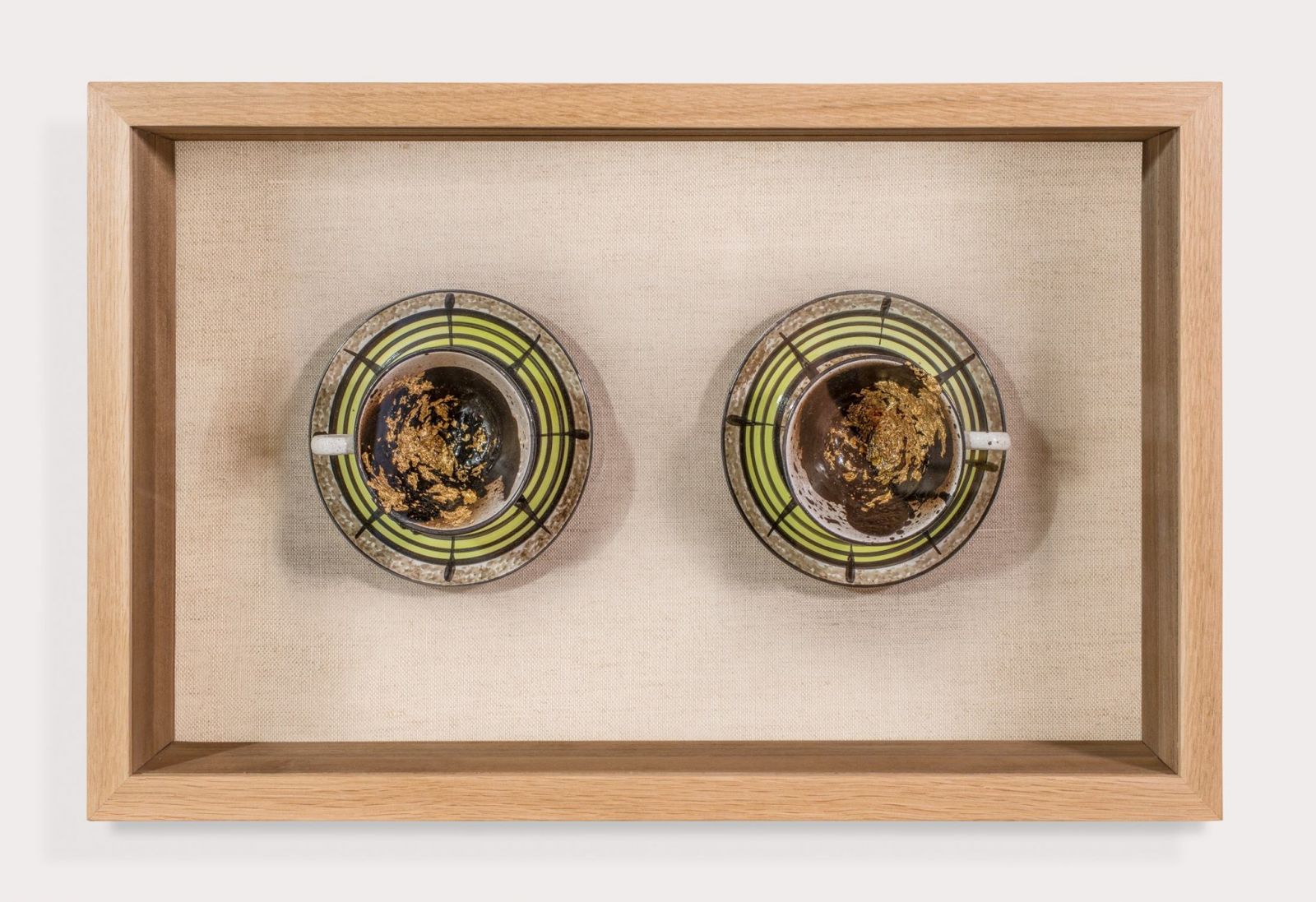 Breakfast 2, 2010. Readymade cups of torches, tar and golden leaves in a display window, 12X53X33 cm
Address: 11 Simtat Maanit St. Jaffa. Opening hours: Thursday, May 14, 19:00-21:00; Friday, May 15, 14:00-16:00; Saturday, May 16, 19:00-21:00.

*The artist will be present throughout the opening hours
Mahmoud Kais – Transgression
Installation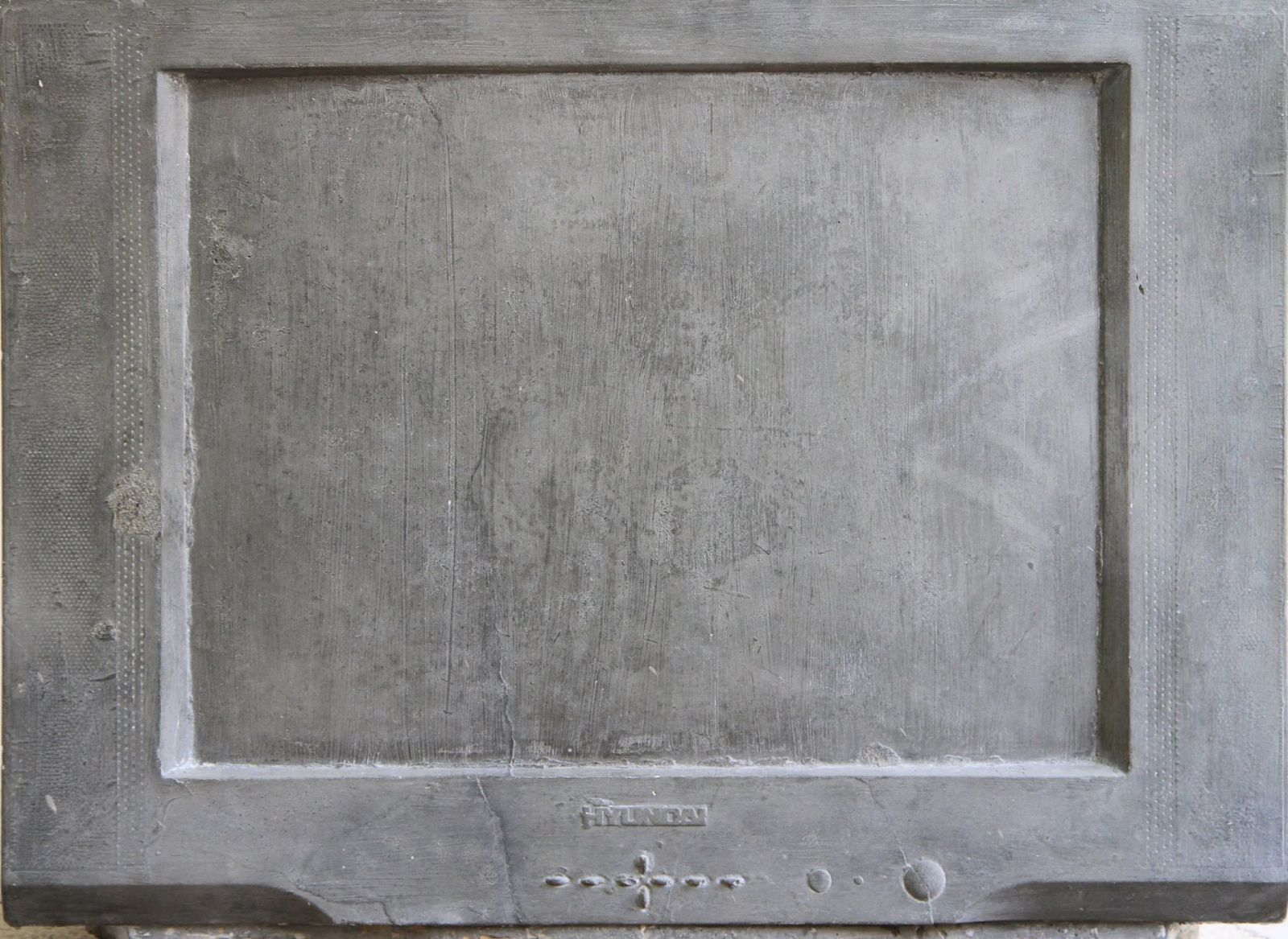 Detail from the installation, 2015. Concrete cast, 50×60×45 cm.
Address: 3 Raziel St. Jaffa.
Opening hours: Thursday, May 14, 19:00-21:00; Friday, May 15, 14:00-16:00; Saturday, May 16, 19:00-21:00
Manar Zuabi – Elevator Speech
Video & sound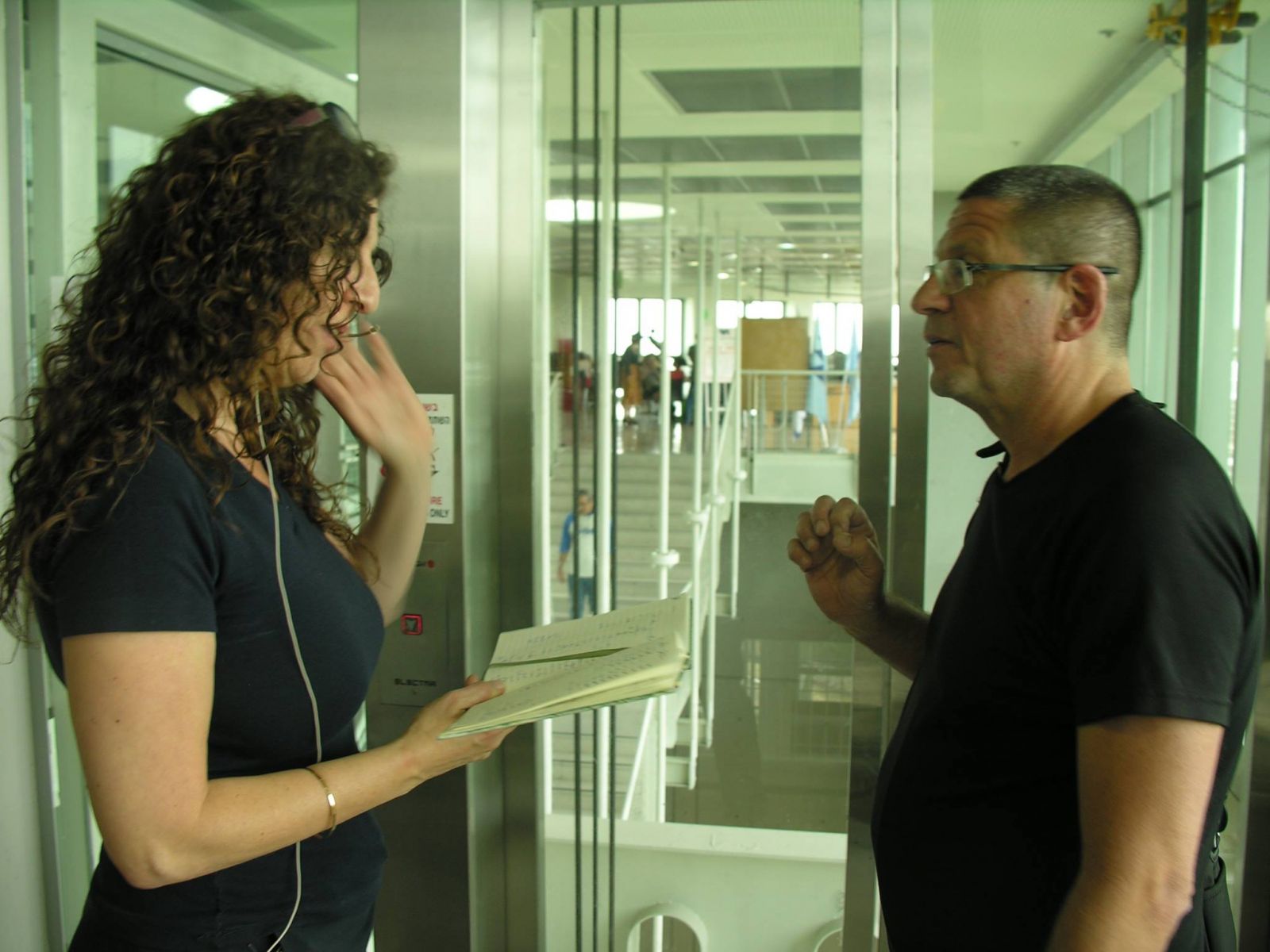 Performance (with Ido Bar-El), Haifa University, 2013
Address: 17 Dante St. Jaffa
Opening hours: Thursday, May 14, 19:00-21:00; Friday, May 15, 14:00-16:00; Saturday, May 16, 19:00-21:00.
====
Symposium: Houses beyond the Hyphen
The symposium will offer an extensive discussion of the issues addressed by the exhibition, with emphasis on memory and its erasure in Palestinian culture, particularly that of the city of Jaffa beyond the hyphen – an oblivion that is part of the overall eradication of the Palestinian cities in 1948 and the 67 years since. The discussion will be guided by a comparative perspective, presenting a variety of projects which have undertaken complex moves with reference to Palestinian urban history.
Friday, May 15, 10:45-14:00, Al-Rabita offices, 73 Yefet St. Jaffa
10:45 Assembly
11:00-12:30
Greetings and opening statements: Debby Farber, exhibition curator, Gaby Abbed, chair of Al-Rabita (Association for Jaffa's Arabs)
Sami Abu-Shehade: The Nakba in the Jaffaite Context: Critical Reflection on the Palestinians' Exclusion from the History and Geography of the Place
Dorit Naaman, Queen's University, Canada: Missing Address – Virtual Return to Qatamon
Gil Mualem Doron: Transgressive Tactics in Occupied Spaces
12:30-12:45 Coffee break
12:45-14:00
Karmit Batzir and Raz Rozkin (informal study unit at the Bezalel Academy of Art and Design , supervised by Arch. Snan Abd-el-Qadr): Daqqa Orchard
Jumana Manna's film "A Sketch of Manners – Alfred Roche's Last Masquerade" (2013, 12 min. English with Arabic subtitles).
The screening will be followed by a lecture by Muhammad Jabali
====
Tours:
Echoing Yaffa
Vocal Tour of Manshiye
Miriam Shickler

The vocal tour Echoing Yaffa tells the story of the Palestinians who used to live in Manshiye Neighborhood in north Jaffa. Their story enables the participants to reconstruct life destroyed and irrevocably transformed during the 1947-48 war, and as a result of more recent processes of ongoing displacement and dispossession of Jaffa 's Palestinian community.

Thursday, May 14, 16:00-18:00; Saturday, May 16, 16:00-18:00.

Meeting point: 2a Tzadok Hacohen St. (CCA – Center for Contemporary Art), corner of Kalisher St. Tel Aviv
Note: Please bring an MP3 player or smartphone and high-quality earphones. You may download the audio files in advance here, or receive them at the meeting point.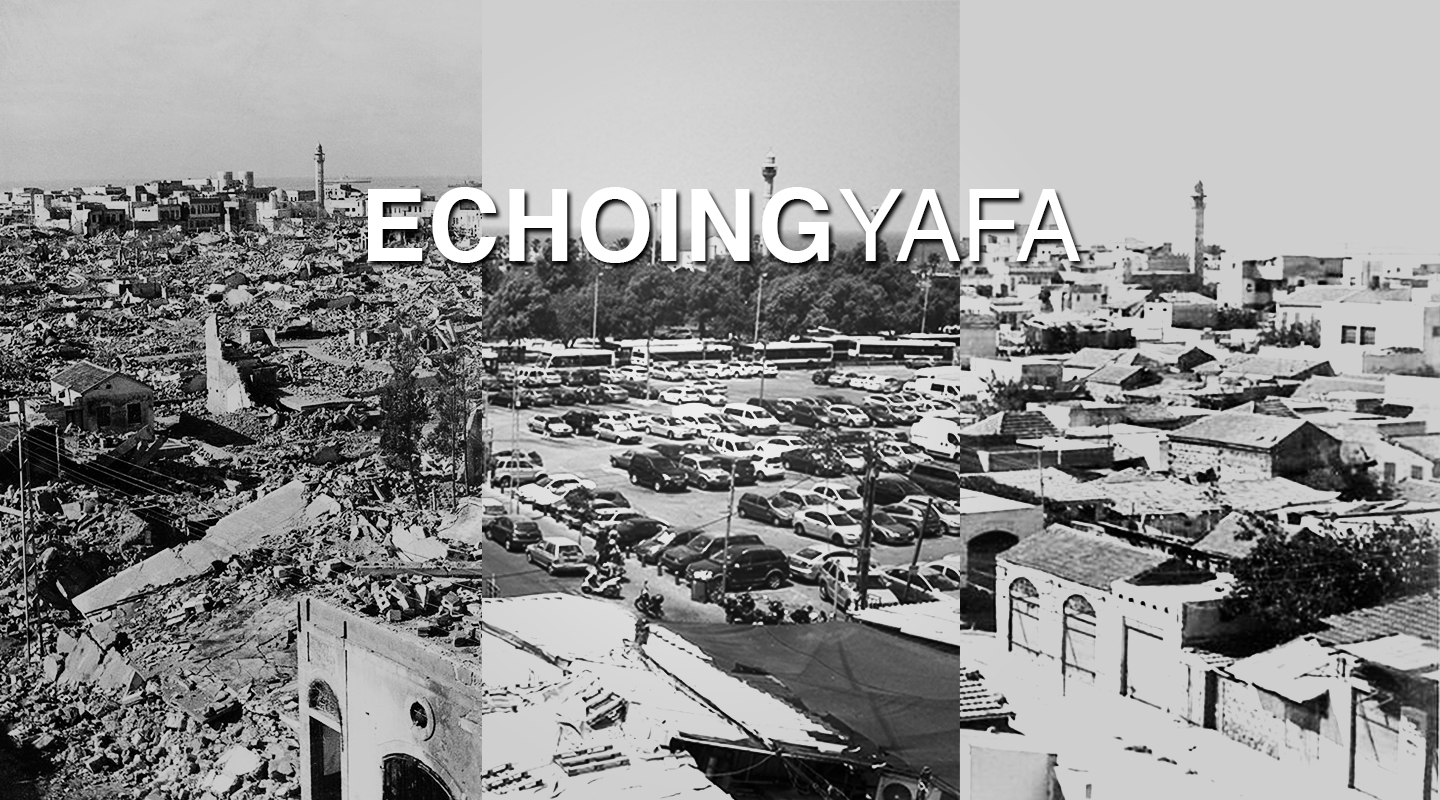 Empty Facade – On Erasure and Reconstruction
Tour of Yaffa
Ami Asher
"Many storms have struck the port of Yaffa and the city that overlooks it throughout the centuries, but none was as destructive as that of 1948 and the ensuing years, which almost totally wiped out all physical evidence to the city's recent past. This tour is dedicated to some of the spatial texts spared by this mighty eraser, and to those still legible despite crude attempts to overwrite them". The tour is included in Once upon a Land, a Hebrew-Arabic tour guide published by Zochrot and Pardes, with 18 tours to Palestinian neighborhoods and villages depopulated during the Nakba and mostly destroyed by Israel.
Friday, May 15, 16:00-18:00.
Meeting point: Café Alma, 19 Yehuda Hayamit St. Jaffa.
For registration and additional details, please email us at tours@zochrot.org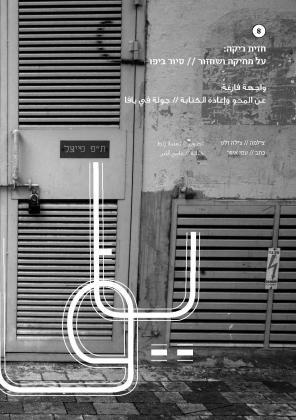 From Diaspora to Homeland
Returning to Yaffa by boat and a tour to Ajami Neighborhood
Umar al-Ghubari
Tens of thousands of Yaffa's inhabitants were deported in 1948 on ships heading for Gaza, Beirut, and other Mediterranean ports. The combined tour will illustrate an act of returning to Yaffa in the opposite direction, an act which seeks to turn the journey of refugeehood into one of return. The first part of the tour is a boat trip during which participants will receive explanations about the 1948 deportation and listen to live refugee testimonies, as well as a recorded testimony by the late Shafiq al-Hout, a senior PLO official and the author of Between Homeland and Diaspora: The Voyage Began in Yaffa .
After the boat trip, the second part of the activity will take participants on a walking tour to Yaffa's Ajami Neighborhood.
Saturday, May 16, 10:45-14:00.
Meeting point: Jaffa port, in front of Hangar 1, Sababa boat. The tour is limited to 100 participants. You may also join the second part of the tour, starting at 12:00 at the same meeting point.
Note: Advance registration and a 45 NIS charge to cover the boat rental cost are required.
For registration and additional details, please email us at tours@zochrot.org
====
Gil Mualem Doron – Fishing for Clues
Artistic action

In this action, passes-by will be invited to trace the outline of one of the shacks in the Palestinian fishing village which survived in the Yarkon River estuary until 2010.

Meeting point: Tel Aviv, on the north bank of the river estuary, east of the bridge, where the Fishermen's Village used to be located
Friday, May 15, 16:00-00:00.