The team included proffesionals and activists (most of them volunteering!) was led professionaly by artist Gil Mualem Doron and Archtiect Amnon Bar Or.
Under the title "(UN) RESTRICTED ACCESS - From military space to civic space", hundreds of proposalas were submitted from ten different countries.
The project Zochrot led deals with the abandoned military army base in Beit Dagan that includes remains of Bayt Dajan town destroyed by Israel at the Nakba. The proposal is to turn it to a pedagogical and visitors center for Palestinian refugees and Israelis that could learn about the country and plan return.
Zochrot wish to thank the participants: Architect Ilan Goldin, Nichal Micheli Ran, Michal Vexler, Eleonore Merza, George Ssasine, Martin Assa, Olivier Thomas, Amy Asher, Norma Musih, Eitan Bronstein.
Prof. Rula Awwad-Rafferty, Palestinian American, commemted on the project. Read at the bottom of this page.
At the competion site the files are in rather low quality. To get higher quality files write to: eitan@zochrot.org
Here is the introduction text:

This is the site of the abandoned Beit Dagan military base. The history of the site goes back thousands of years. In its recent history, prior to the establishment of the State of Israel, it used to be a Palestinian town named Bayt Dajan. Jewish military forces destroyed it during the Nakba (Catastrophe) of 1948 along with more than 500 Palestinian communities.

This project aims to reconstruct Palestinian life at this site. This would be a visitor and learning center, not a residential community. As Zochrot, the organization organized the project is an Israeli NGO, it would not be appropriate for the planners to suggest a permanent plan for the site. Such a plan must involve Palestinian refugees, particularly those from Bayt Dajan.

The plan is to turn the site into a visitor center for Palestinian refugees who wish to be reacquainted with the land to which they have never been allowed to return. Only fifteen minutes away from the Ben Gurion International Airport, the center will provide the visitors with facilities for studying about Palestine and planning their future in it. Based on acknowledgment of the Right of Return, this project will enable the refugees to get to know the land they were displaced from more than six decades ago.

The site will host short-term "go-and-see visits", such as are provided in Cosovo for Serbians wishing to return to their homes and for Jews visiting Israel in the Birthright program (Ektishaf in Arabic). In addition, the visitors will also study about the country, its past and present, and plan their future, including the possibility of return. The site is situated at the center of Israel-Palestine, a walking distance from other destroyed Palestinian localities at the Jaffa district. Thus, it will be also a starting point for travels around the whole country.

Importantly, this Ektishaf center will also serve Israeli visitors interested in learning about the hidden history of their own country. They could take part at the various activities, either together with Palestinians or separately. As such, this site could function as a reconciliation space and would be a model for other similar demilitarized bases.

The project is composed of three main components:

1. Physical conservation of four buildings: A building that was a school for girls until 1948 will be used for pedagogical presentation of Palestinian community life of Bayt Dajan; a former Palestinian house will be used to present Palestinian family life; A Bauhaus-style factory will present the progress of pre-Nakba Palestinian culture and society; and an abandoned army warehouse will house the information center.

2. Memory spaces housed in containers representing each of the destroyed Palestinian localities of Jaffa district. Prefabricated containers will be placed to represent the scaled location of those towns and villages. They will contain digital memory files and images. As they are mobile, it will be possible to move them to the original location of each destroyed locality if and when it is rebuilt, or act as an onsite memory center there.

3. Dorms and conference facilities at a huge and almost intact hangar.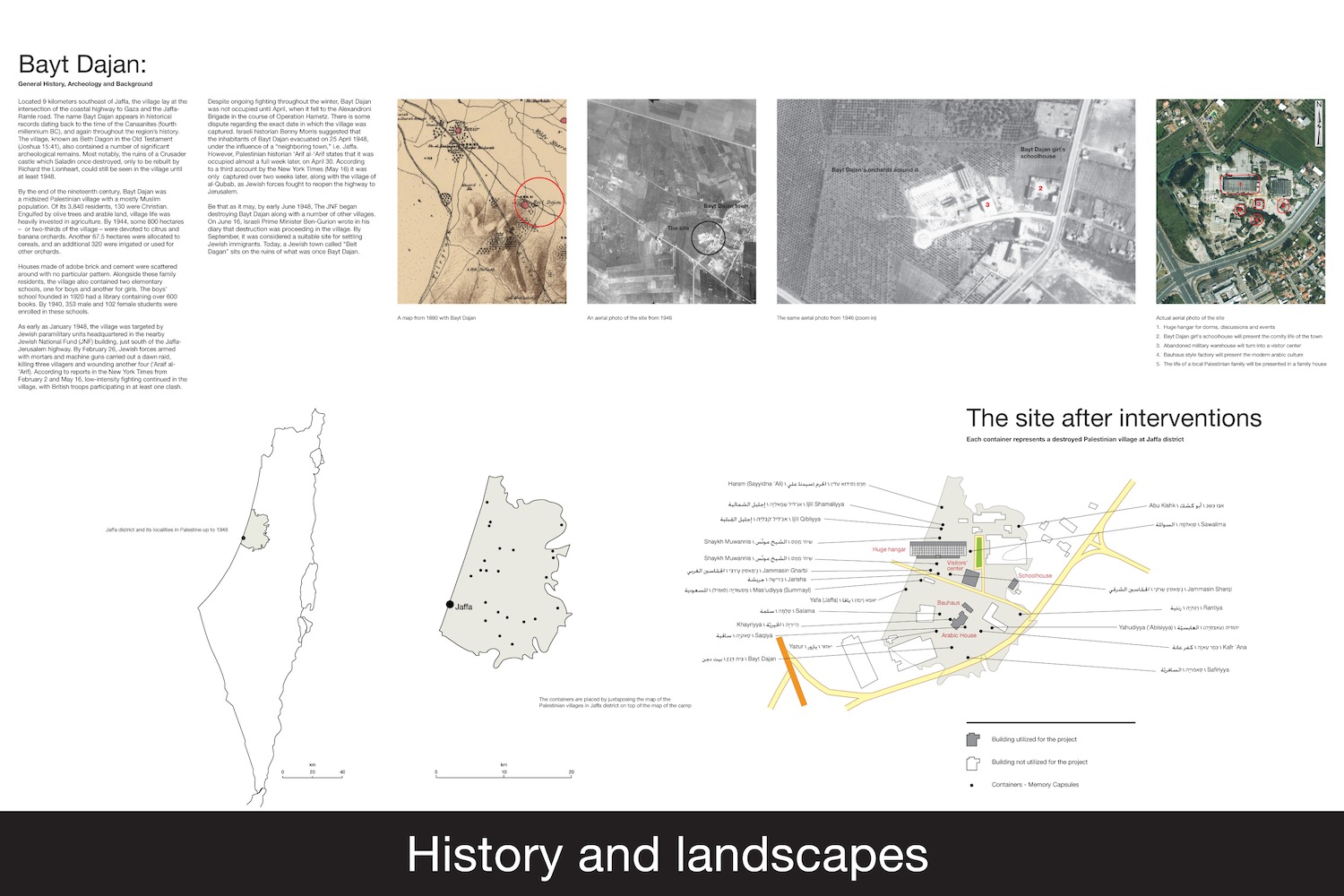 Demilitarized Home-Lands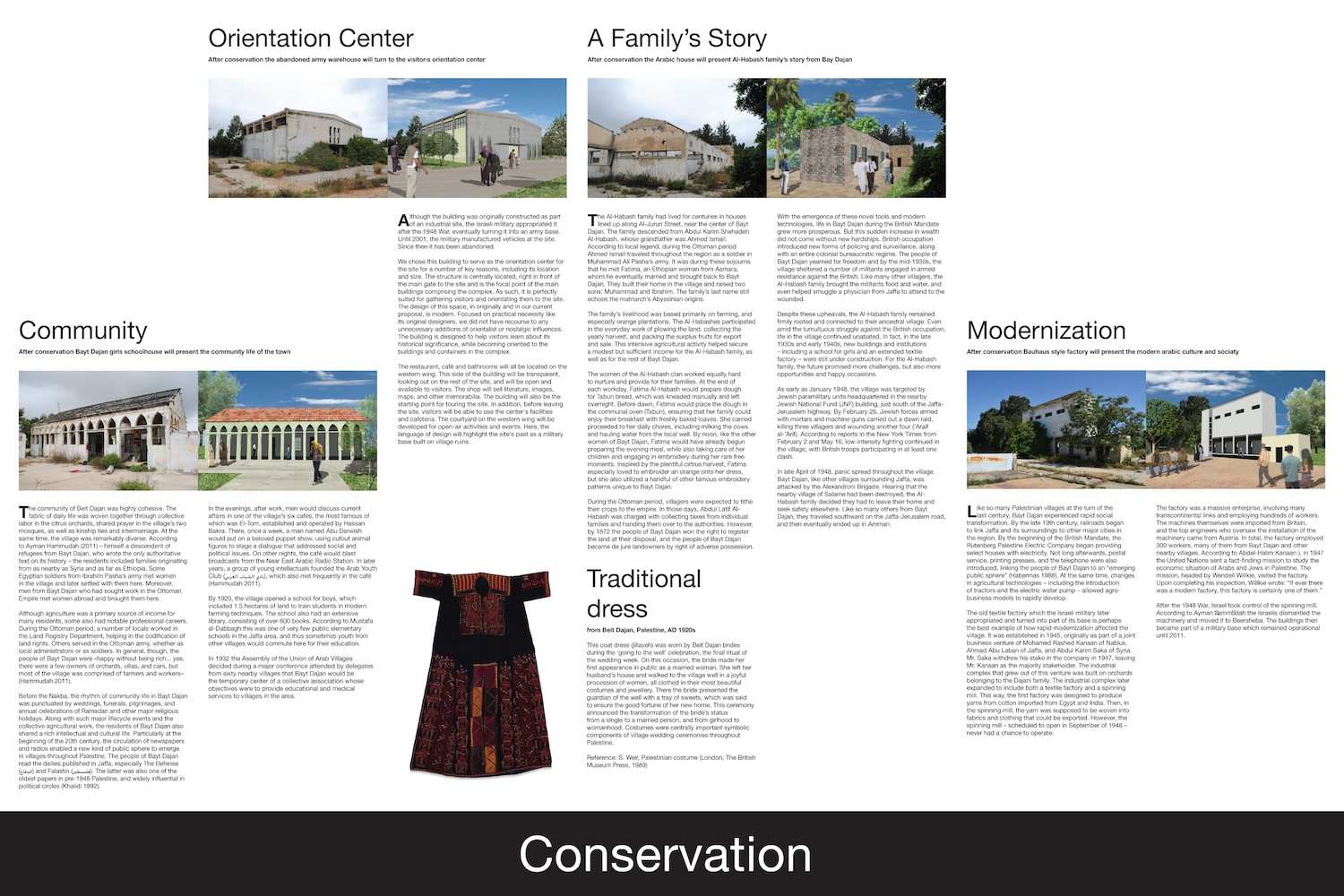 Demilitarized Home-Lands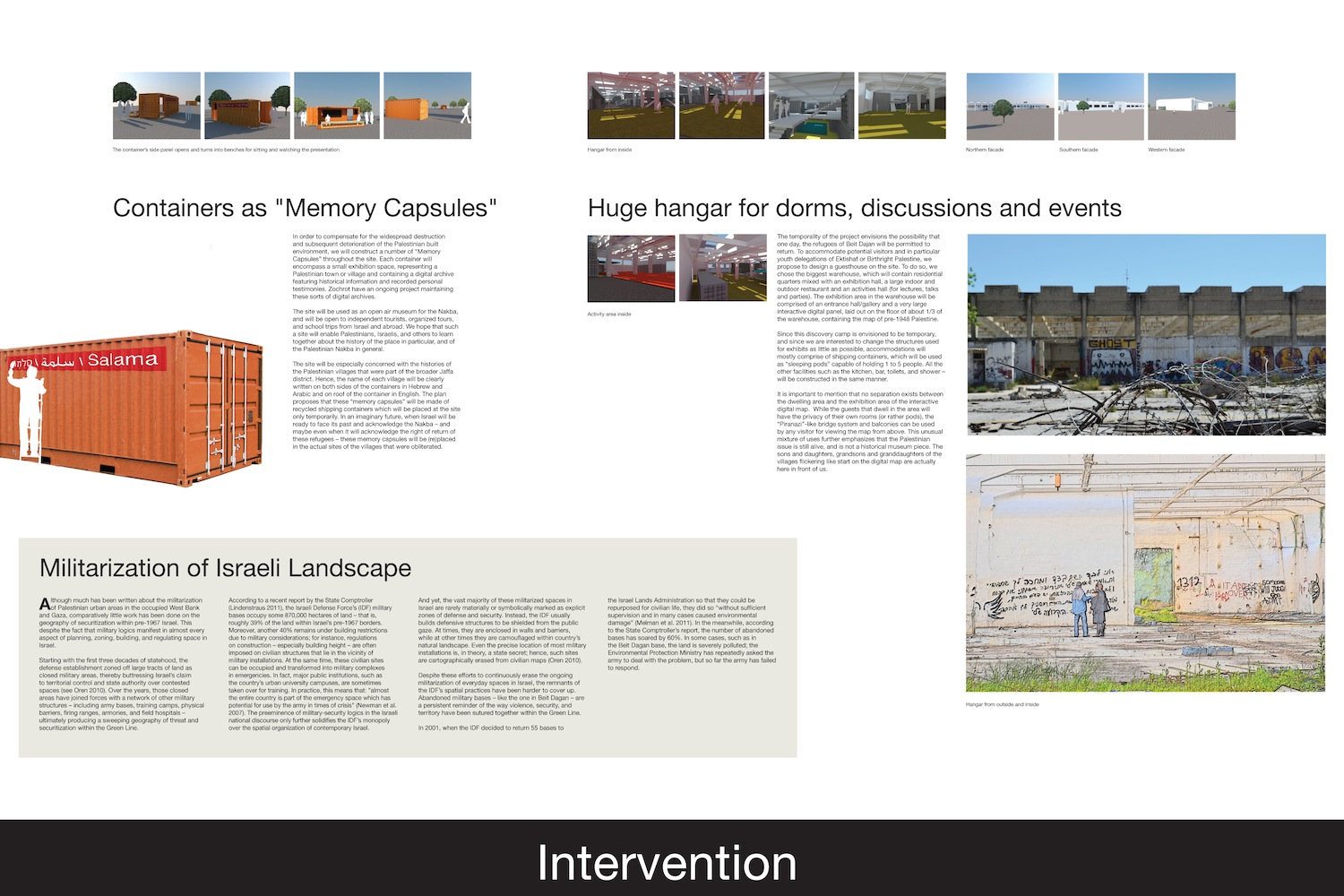 Demilitarized Home-Lands