On the night of the Israeli Independence Day, May 5, 2014, some twenty activists commemorated the Nakba in Tel Aviv. Eleonore Merza, who conceived and design it, photographed 14 Israeli Jews, holding in their hands Certificate of acknowledgment of the Nakba, that was produced by New KKL exhibited now at Zochrot. Their names are: Yuval Ben Ami, Noa Levy, Anat Reisman Levy, Moran Barir, Chen Misgav, Gilad Halpern, Ortal Ben Dayan, Yosi Makaiton, Siona Shimshi, David Wesely, Ilana Wesely, Orli Fridman, Eitan Bronstein Aparicio.

The certificate reads:
I, ………. , acknowledge the Palestinian Nakba for which Israel was responsible in 1948. Destroying 678 Palestinian localities creating more than 700,000 Palestinians refugees.
I know that many KKL parks and forests were established on the ruins of Palestinian villages
On the site of ………………… , for example………………, a Palestinian village, stood until 1948.
Date………….. Signed……………..
*This project has no connection with the KKL - JNF

The portraits were printed in black and white, in the size of 60 on 84 centimeters, with the name in Latin letters at the bottom of each one.
They were hanged on the wall of one of the last remains of Manshiya neighborhood of Jaffa, today the Charles Klor Park. This Arabic house turned to the Irgun museum that praises his conquests in 1948, denies Dair Yassin massacre and neglect the history of Manshiya and the Palestinian owners of the museum's structure.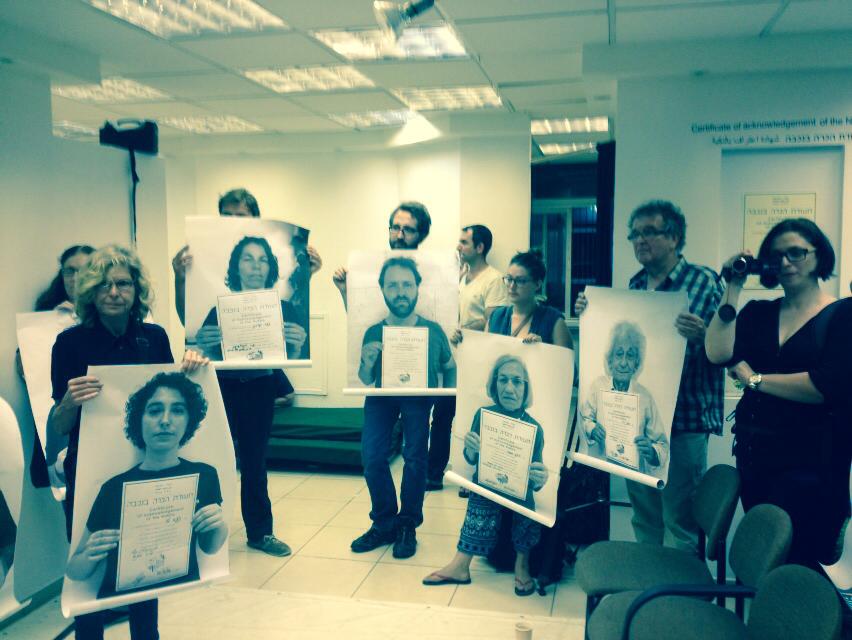 מתכוננים לפעולה הישירה לציון הנכבה ביום העצמאות 2014 / Preparing for the action to commemorate the Nakba in Tel Aviv Independence Day 2014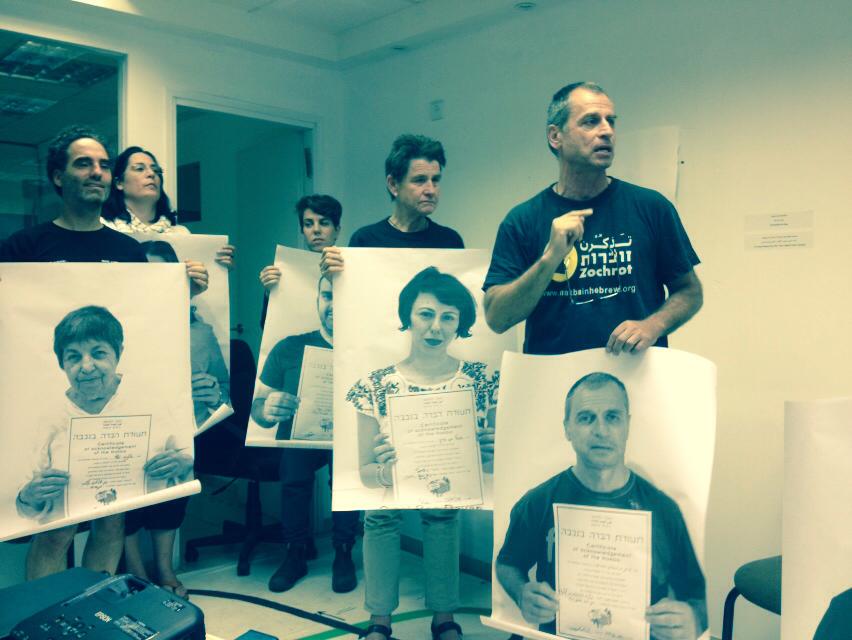 איתן ברונשטיין מסביר את הפעולה הישירה / Eitan Bronstein explains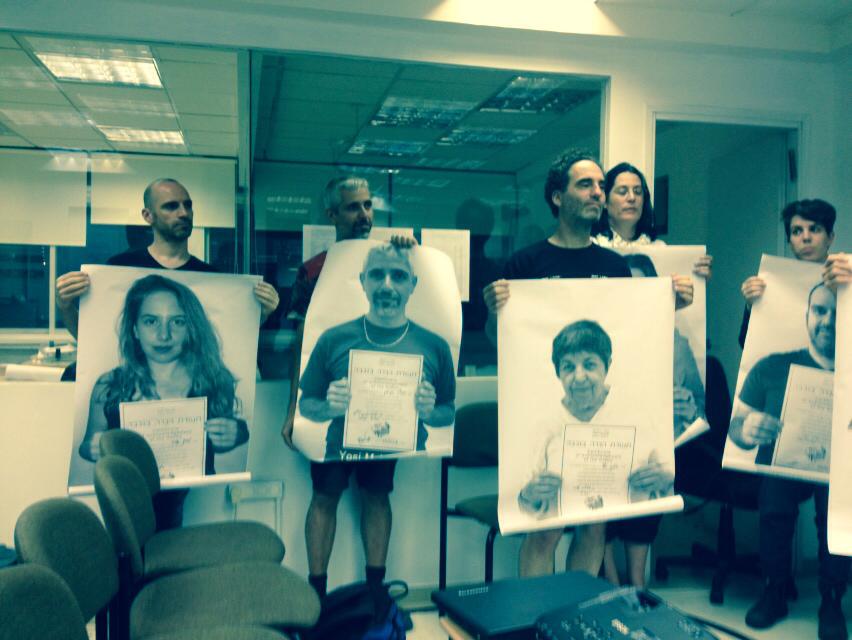 מתכוננים לצאת / Preparing at the office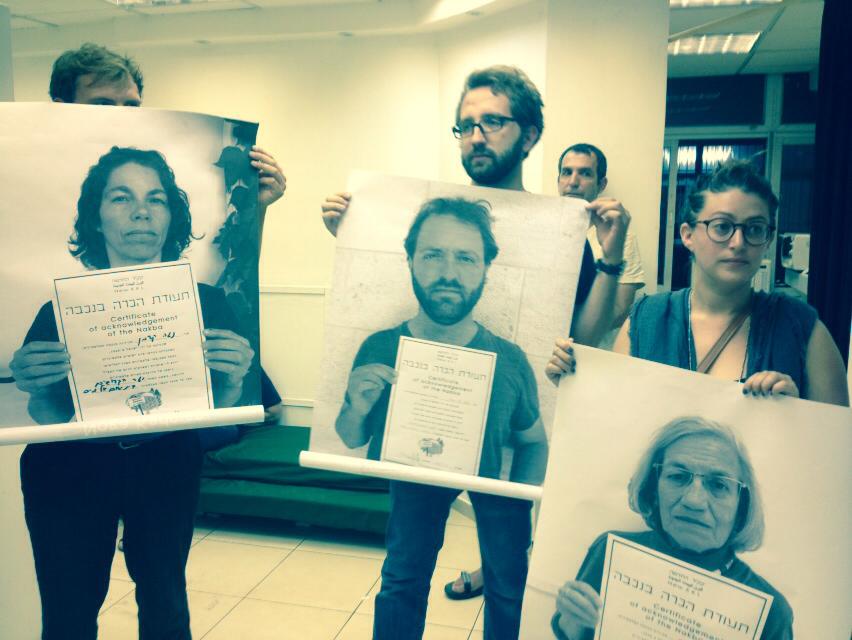 מתכוננים לצאת / Preparing and showing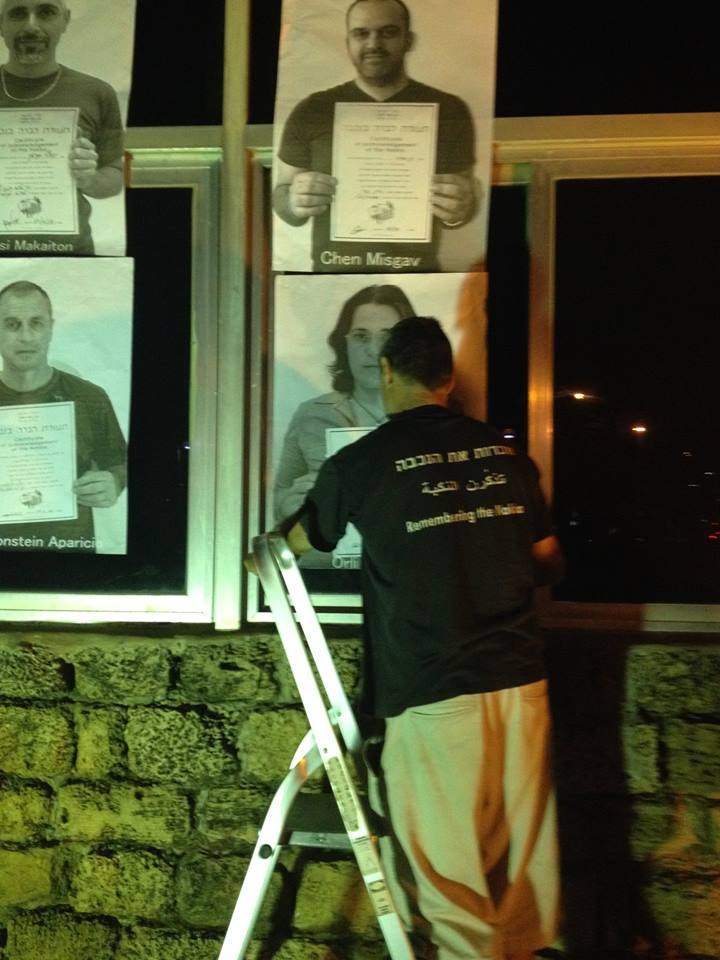 איתן מדביק את הפוסטר של אורלי / Eitan sticks Orli's poster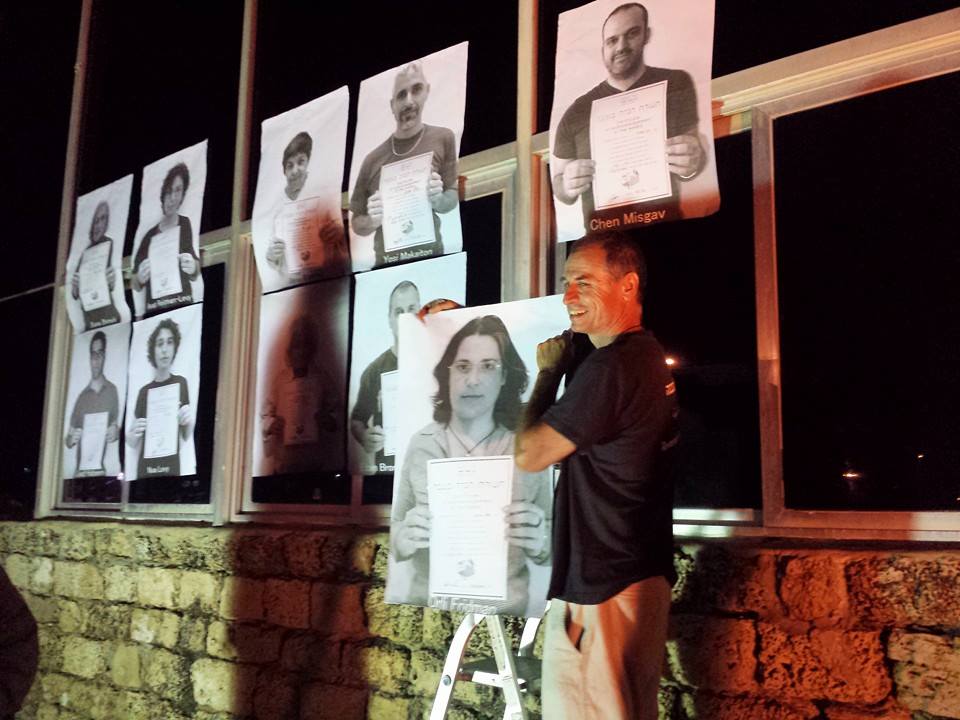 איתן: זו אורלי / Eitan: This is Orli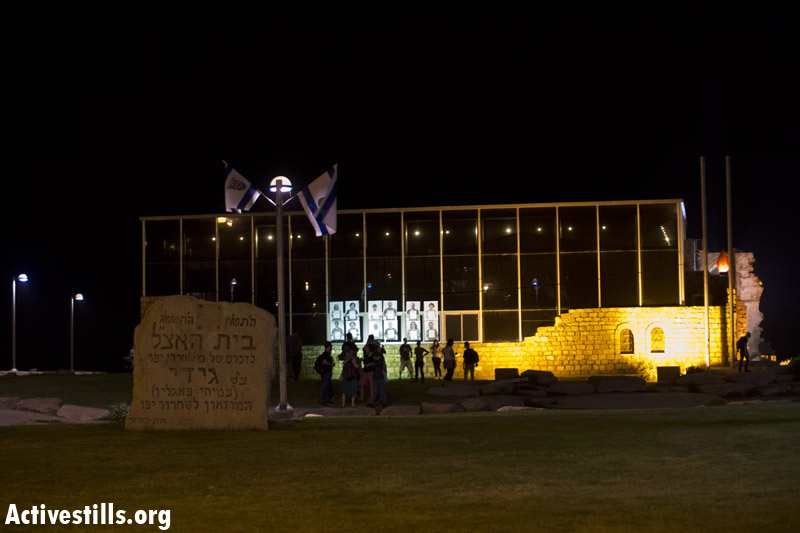 "בית גידי" והפעילים במנשיה ברקע / "Irgun Museum" and the the activists at Manshiya in the background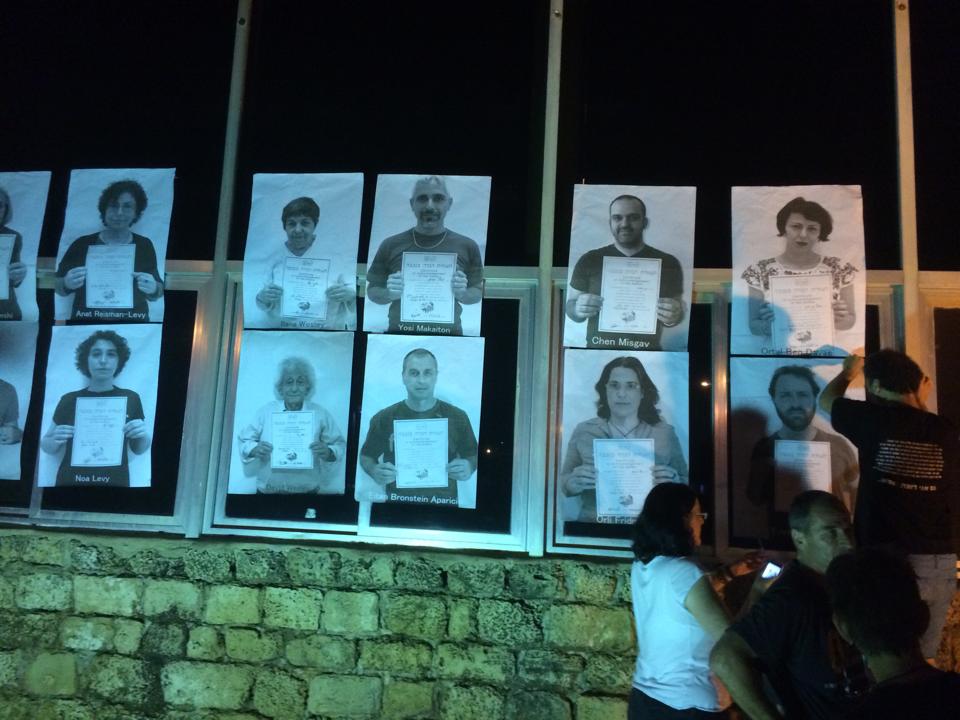 מדביקות את הפוסטרים / Sticking the posters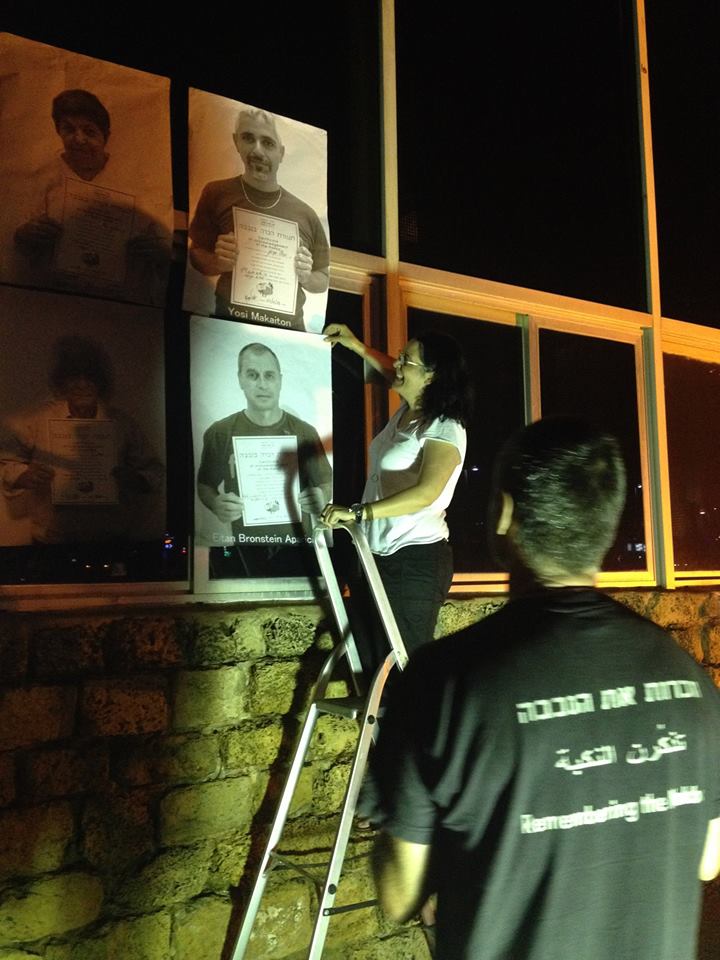 אורלי מדביקה את איתן / Orli sticks Eitan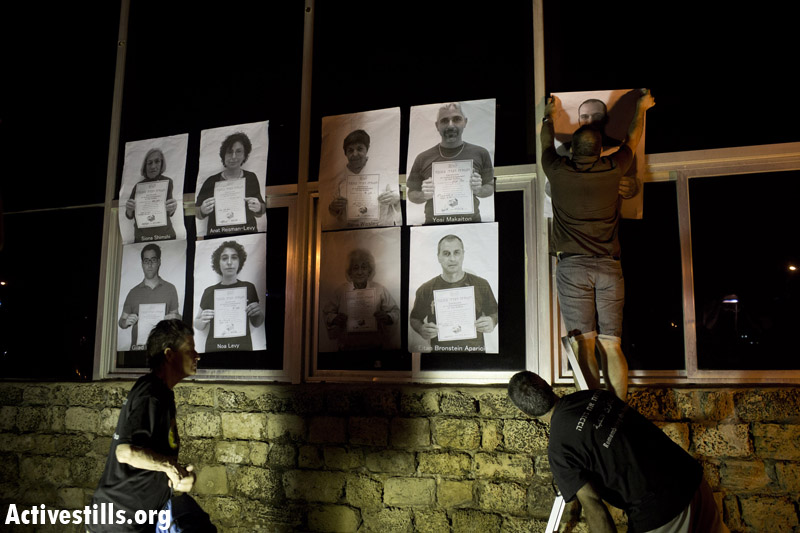 חן משגב תולה את תמונתו / Chen Misgav is posting his photo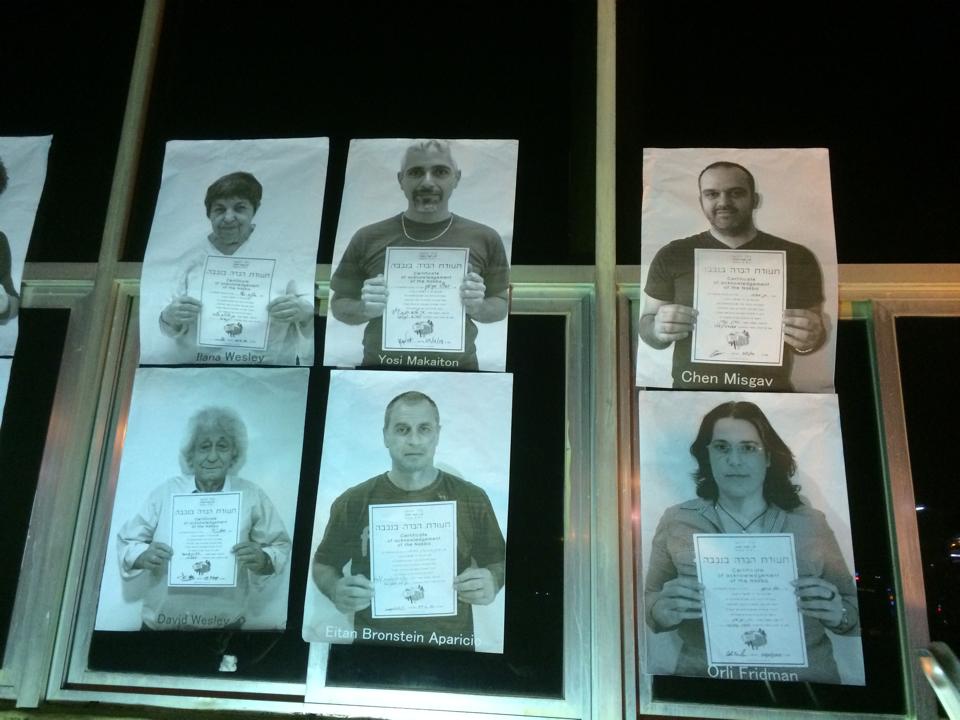 ששה מהפוסטרים מוצבים על מוזיאון האצ"ל במנשיה / Six of the posters on the Irgun museum in Manshiya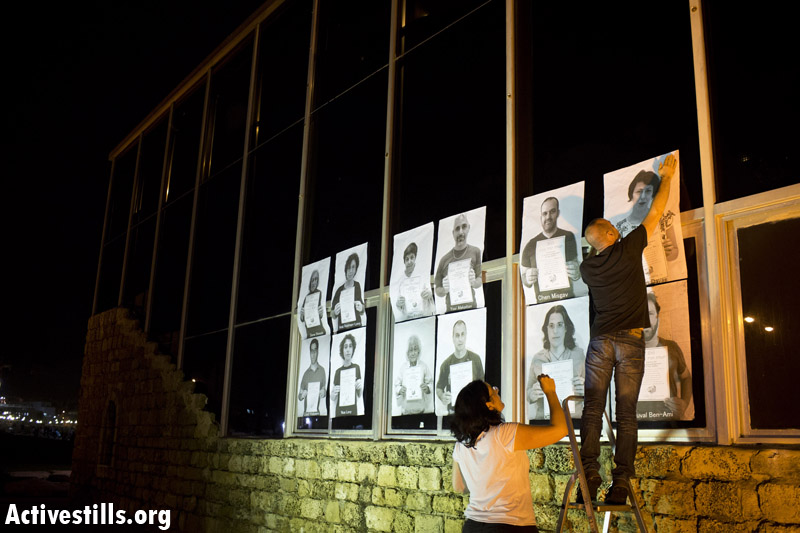 רוני ברקן תולה פוסטר / Ronnie Brkan is hanging a poster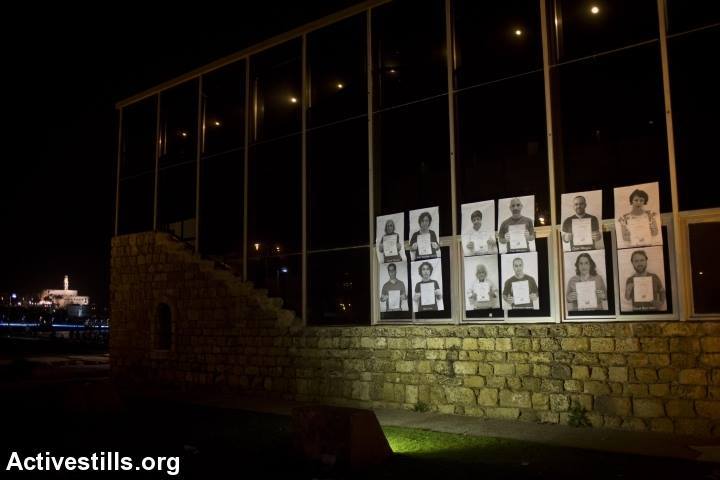 הפוסטרים על מוזיאון האצ"ל וברקע יפו / The posters on Irgun museum and Jaffa in the background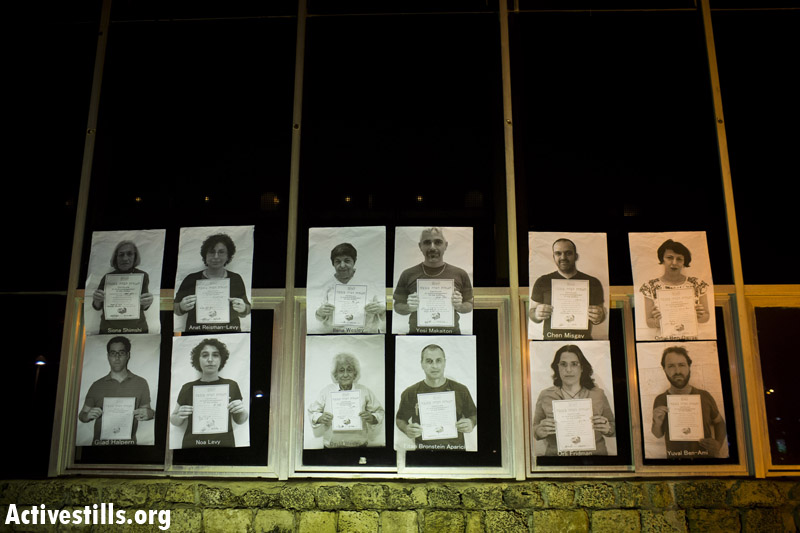 המיצב על מבנה מוזיאון האצ"ל במנשיה / The instalation on the house at Manshiya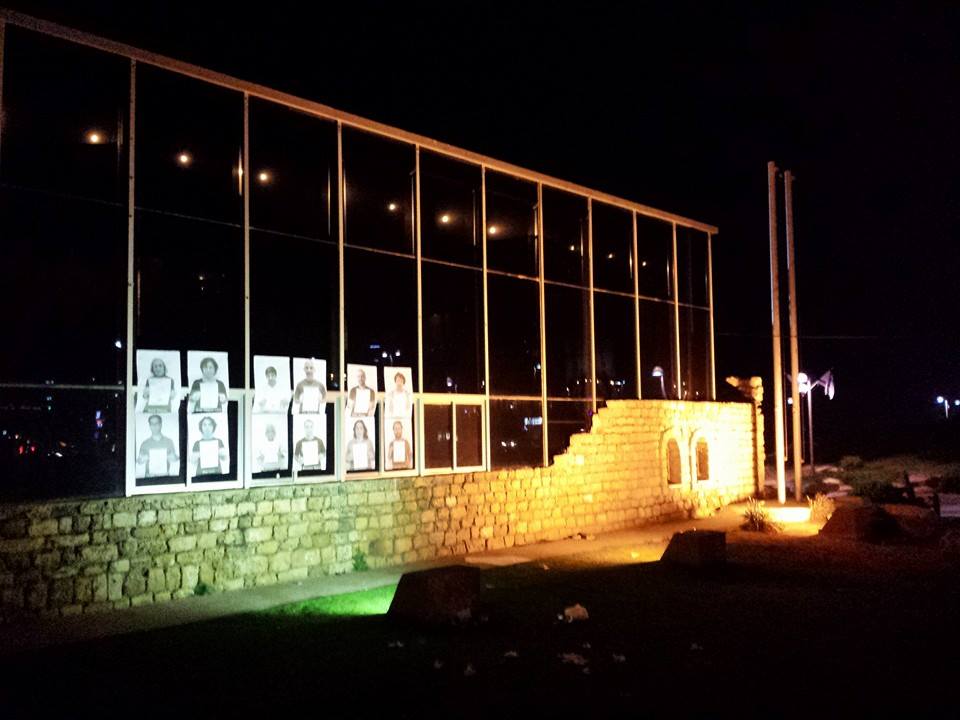 כל הפוסטרים ודגלי ישראל / All the posters and the flags of Israel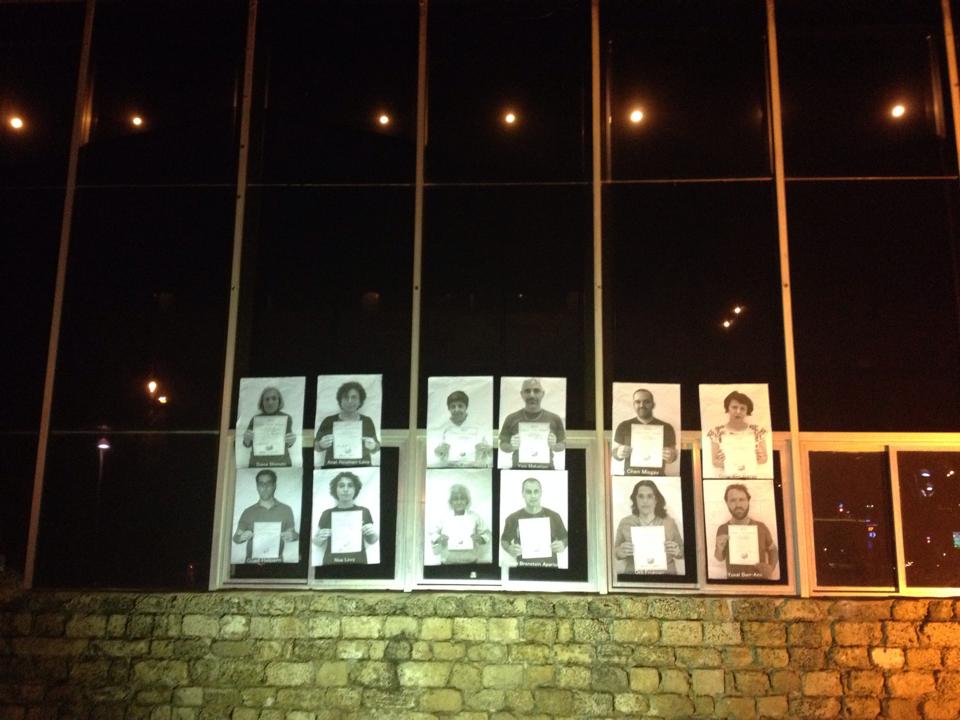 ישראלים/ות מכירים/ות בנכבה - מיצב על מוזיאון האצ"ל במנשיה / Israelis acknowledging the Nakba - installation on Irgun museum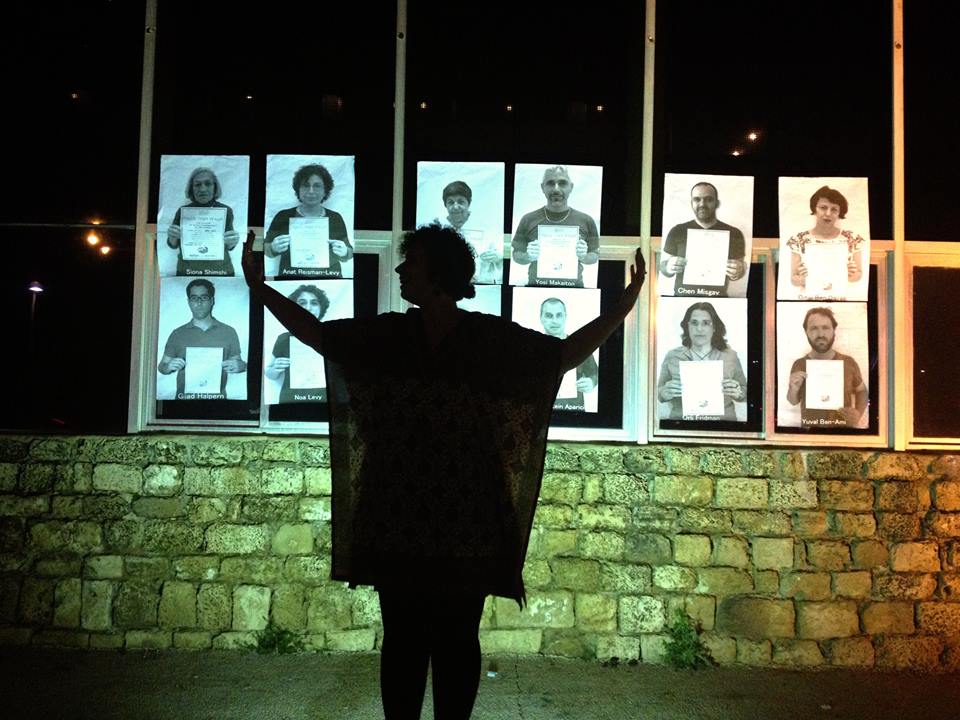 ליה טרשצ'נסקי שצילמה בוידיאו התפנתה להלל את המיצב / Lia Tarachansky who filmed it all, took a moment to praise it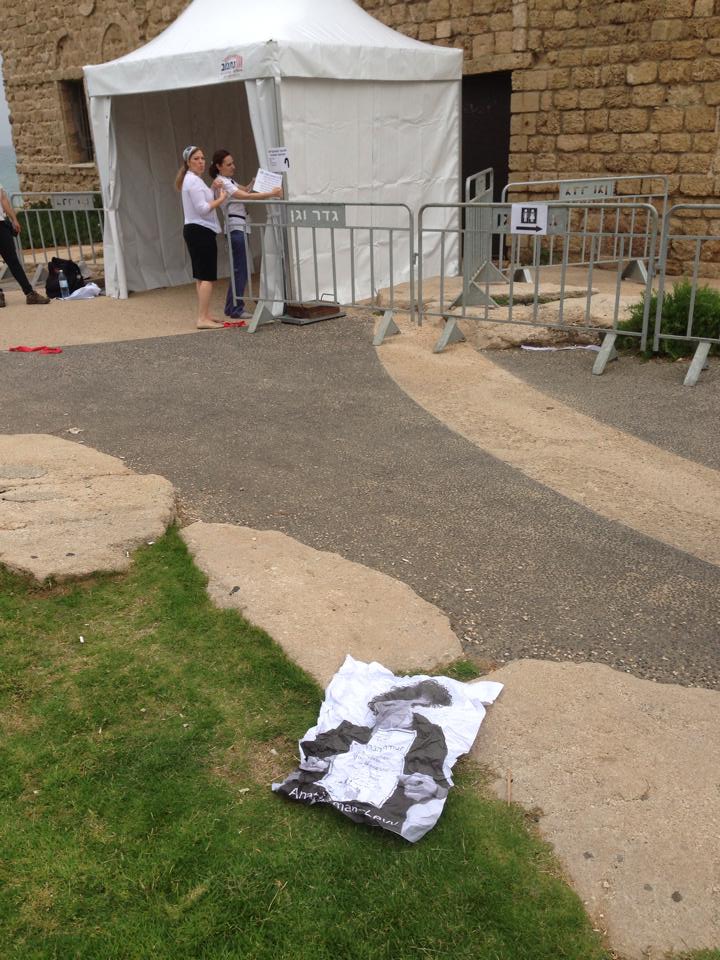 המיצב הושחת בבוקר למחרת / The installation was vandalized the in morning after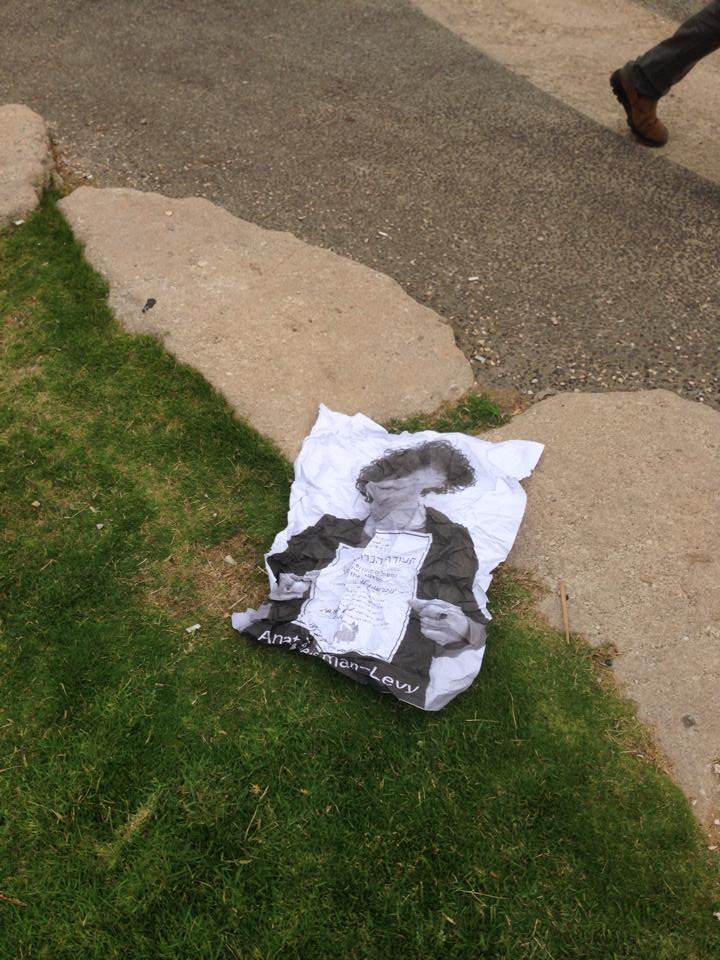 הפוסטר עם ענת ריזמן לוי קומט והושלך / The poster of Anat Reisman Levy is dumped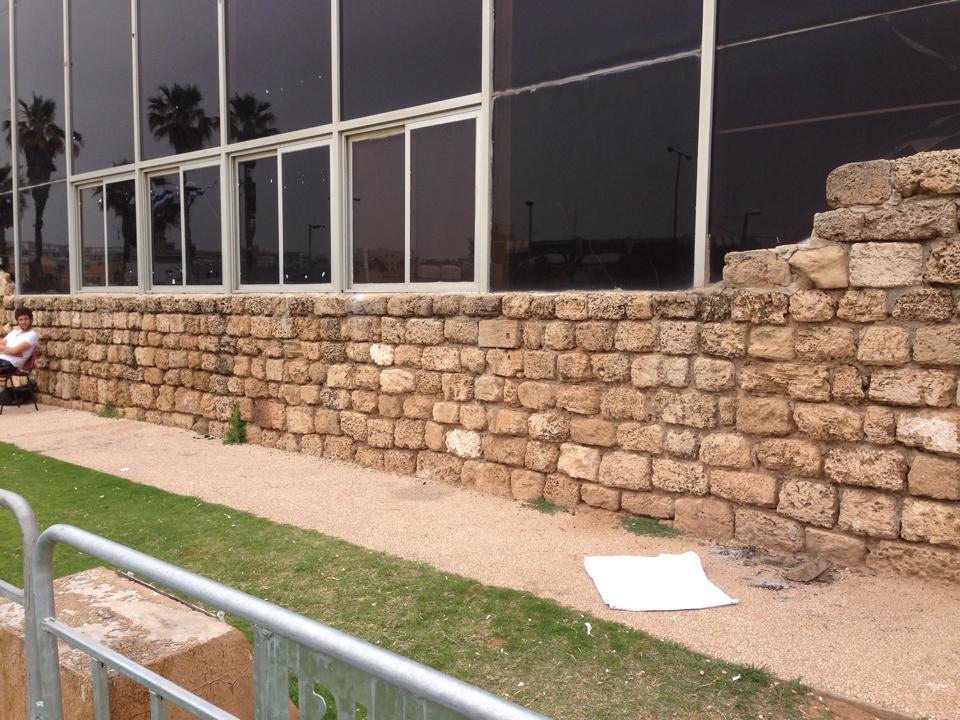 פוסטר זרוק וסימני דבק על הקיר / A dumped poster and remains of the stickers on the wall