We met on Saturday afternoon, July 8, 2006, to drive to the old city of Beersheba, to rummage through memories and perhaps also a bit to change them. Two buses – one from Tel Aviv and one from Jaffa, Ramle, and Lod – drove southward, to the place where most of the refugees now under the Israeli offensive in Gaza came from.
About 150 men and women gathered in the courtyard of what was once an active mosque for Muslims from Bir al-Seba and the surrounding area. Today the mosque is dormant, looks neglected, and the municipality refuses to permit its use for prayer. In the past the municipality tried to turn the mosque into a museum. Today it just stands neglected. The struggles against the Muslim residents were carried out with typical Israeli high-handedness. A statue hinting of the figure of a woman was erected in the courtyard of the mosque, and when the residents intended to protest, the Deputy Mayor scattered garbage around the mosque to deter them. Actions at the mosque revealed the intention of Jewish leaders that Arabs/Muslims disappear from the public eye.
Beersheba, we were reminded by Micky Cohen, a soldier in the Negev brigade in 1948, was not part of the Jewish state according to the partition plan. It was entirely settled by an Arab population – between 6,000 and 10,000 people according to different speakers. They clarified that the city was not "liberated" but rather "conquered." As part of the occupation of the Beersheba , crimes were committed such as killing prisoners in the mosque, looting property of the residents of the city, and killing soldiers and residents who tried to flee.
Nuri al-Okabi, Schadeh Ibn Bari and Yani Nevo told us about the situation of the unrecognized villages, whose residents do not receive water, electricity and other services from the authorities, and cannot vote in local elections. One of the "Chelm stories" that we heard was about the Mayor of Beersheba, who decided to expand the jurisdiction of the city by annexing to its population an additional 10,000 Bedouin residents who lived nearby. Thanks to these extra residents, he could then appoint a salaried Deputy Mayor. But since the Bedouin residents lived in unrecognized villages, they could not themselves vote in local elections in Beersheba .
After listening to the speakers, we departed to tour the old city. In some places we saw reasonable attempts at preservation, and there were even signs describing what existed there in the past. We posted two signs, one at the al-Shawa Bank and another at the Bseiso Mosque, both which operated in the city until 1948. The signs were removed immediately after we left the area.
On our way back, through the bus window, we saw the Muslim cemetery which had been almost completely destroyed. It seems that the Muslim dead, too, disturb the public peace in Beersheba.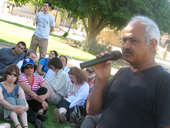 Bir al-Seba 2006 (7)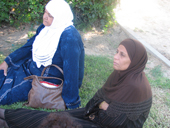 Bir al-Seba 2006 (10)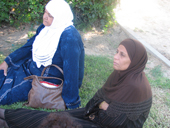 Bir al-Seba 2006 (10)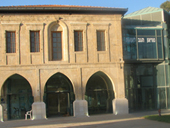 Bir al-Seba 2006 (3)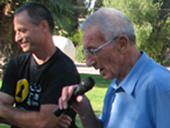 Bir al-Seba 2006 (9)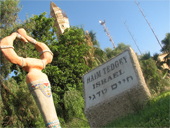 Bir al-Seba 2006 (5)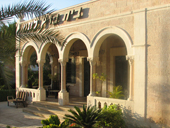 Bir al-Seba 2006 (1)