At Zochrot's Visual Research Laboratory, 17/3/2013.
Participants: Dr. 'Adel Mana, Sami 'Ali, Mhammad Hamdan. 30 at the audience.

Eitan Bronstein Aparicio:
This evening's discussion is being held in conjunction with the exhibit of Ron Amir's photographs of Jisr a-Zarqa, and I'd like to thank him for helping to organize this important event. This is the first time we've devoted an activity to those who weren't expelled, who survived the Palestinian nakba. Much has been written about the expulsion, about preventing Palestinians from returning, but there has been very little discussion of the circumstances that allowed Palestinian localities to survive. We thought that Jisr would be an important and interesting place to begin such a discussion. Let's start with the help of Sami Ali and Muhammad Hamdan, from Jisr az-Zarqa, who investigated the reasons that Jisr remained the sole Palestinian locality on the coast after 1948. We'll then hear a portion of the testimony of a member of the Palmach having to do with Jisr in 1948 and see a short excerpt from a film made some decades ago in which the mukhtar describes how they happened to remain in 1948. Afterwards we'll hear from Dr. 'Adel Mana, a historian researching 1948, who remembers his experiences from that period in Majdal Krum, in Lebanon and then after returning home. 'Adel will discuss why relatively many localities survived in the Galilee, compared to other areas of the country.

Mhammad Hamdan:
I was born in Jisr and live there today. I become emotional whenever I talk about where I live, the village, the neighborhood, the house, the street I always walked on. During the past few years, Sami and I have tried to learn about the locality, to understand it. We search for documents, listen to the stories of the elderly inhabitants. We don't have incontrovertible documentation of what happened in 1948. Jisr didn't appear on maps of the country before 1900. They included the Awwarna tribe, or Nahal Taninim. It's the only Moslem Arab locality that remained on the Mediterranean coast after 1948. I'm a member of the Amash family; we comprise 40% of Jisr's population. Sami is a Jarban; they're 30% of the population. Jisr has approximately 3000 inhabitants and more than thirty families, most of which came to the village in 1948, though some arrived later. We've been trying to decide when the nakba happened to us. We think it occurred in 1924 when Rothschild came and began draining the swamps. Before then, the village had been located farther east, near the Carmel range, in the swamps. We have testimony about the move to the hill on which the village is located today, but we don't have clear documentation. It's important to us to tell Jisr's story because we've been neglected by Arab society in Israel. We were set apart socially, viewed as inferior, as "swamp dwellers."

Sami 'Ali:
The important question is, "Why were we still there after 1948?" We searched for documentation in the Zionist archives and at Kibbutz Ma'agan Michael. We interviewed elderly people from Zichron Ya'akov and Binyamina. There are documents in English referring to the Awwarna tribe that lived at the foot of the Carmel and who were involved in draining the swamps in 1924. In return, the Zionists granted them 1500 dunums to which they moved. That's where Jisr is located today. They received 1500 dunums, but 12,000 were taken from them. The problem is that people don't have any documentary proof of that. That's what's complicated about musha'a land (land held in common), which was also undocumented during the Ottoman period when the inhabitants tried to avoid registering their land. So they were relocated to the hill and each family was allotted land according to how many members it had and the size of its flocks. For years the principal source of income was from fishing; they also made reed mats and raised water buffalos. Some of the villagers were employed by member of the first aliyah; over time, most became employed as agricultural laborers. Not many were educated because the schools were poor. We found correspondence between the village mukhtars and the Zionist movement and with the British Mandate in which they ask that the village be given additional land. But they finally agree to accept the 1500 dunums they received, and that's where they live today. In that document the regime officially legitimizes Jisr's remaining in place. The second element is the relationships which developed and deepened between the village and members of the first aliyah, in particular with Zichron and Binyamina, based on their shared interests. The Jewish colonies needed laborers, and wanted the villagers to remain after 1948. A third element that appears in the testimonies is that Palmach commanders came to the village looking for weapons. The mukhtar said to them, "Listen – we don't have any weapons," and gave him a few rifles and some ammunition. "That's what we have; we're not violent and won't oppose you."

"We had an expert in expelling Arabs"
Eitan:
There's testimony from a Palmach member who fought in the Jisr area in 1948. His name is Binyamin Tsur ("Red" – ha'gingy). He was in Company D, and told his story in April, 1991. Here's a short excerpt that's relevant:"Then an even more interesting episode began. The village of Fureidis lay on the border between us and Moshe Carmel. But it was in my area. And there was also Jisr al-Zarqa. Fureidis was connected to Zichron Ya'akov; the villagers worked for families from Zichron. Everyone knew that. The residents of Jisr al-Zarqa worked in Binyamina. I called them "sons of Zichron and sons of Binyamina." I had an expert in expelling Arabs – not during the fighting. He was the main advisor and lived in Hadera, so he was my advisor. The farmers would decide which Arab to expel. They didn't have to be harmed. People would go to the village and say, "Listen, you'd better leave fast, otherwise you'll be killed." Two people from Zichron came and said, "They're ours, they shouldn't be expelled – they're ours. They're quiet, they don't make any trouble." And people from Binyamina came regarding Arabs from Jisr al-Zarqa. I decided to reconsider. If, after the war, people from the outside world will come here and see that we allowed a village which wasn't involved in the fighting to remain, it would be a good thing for us. People went to Jisr al-Zarqa, said to us, "They're rebayna," [gypsies]. "If we expel them the Arabs will kill them because they're gypsies, not Arabs." "So Moshe Carmel showed up, went to the army general staff and said "Expel them." I told them, "Don't." They decided to do what I said. When I think about it today, maybe he was right. And they made a hafla at Jisr al-Zarqa, a huge party. And Yigael Alon and the entire general staff came to Jisr al-Zarqa. And an entire delegation of Arabs from Jisr came with their chief, who said, "Binyamin, we need five hunting rifles. If we don't have any weapons the Arabs will eventually come and do what they will." Because they'd remained. I was the one who had to decide; I had weapons I'd confiscated from the Arabs. I gave them five rifles."

Eitan:
This is the first time we hear the term, "an expert in expelling Arabs." I asked some people; no one had ever heard it before. It refers to a person who advised the local commander "which Arabs to expel." That figure is suspiciously reminiscent of the Arab affairs advisors in the Haganah's "Plan Dalet" which began in March, 1948. Here's how it instructed commanders: "When capturing villages in your area, you shall decide - whether to clear or destroy them – in consultation with your Arab affairs advisor. You may also – insofar as you are able – in addition to clearing villages, capture and demolish enemy villages in your area." It appears that the advisor in Plan Dalet was considered by commanders in the field to be "an expulsion expert," which would be a more down-to-earth description of his role. That's why I believe this supports the understanding of Plan Dalet as a plan for ethnic cleansing of the country.

Sami:
In the 1980's, the inhabitants of Jisr began to be called "Sudanese." While it's true that some families in the village originally came from Sudan, there are also residents who are blond. It became a term of opprobrium referring to people with dark skin.

"They said to me: you, your family, your village – don't leave."
Eitan:
We'll watch a brief excerpt from a film that Channel 1 made in the 1970's about Jisr a-Zarqa. Dib Al'ali Shahidam, the village mukhtar, talks about why Jisr remained in 1948:
"In 1948 what happened, happened, and people from the villages fled and were expelled. The residents of Jisr a-Zarqa said they wanted to leave the villages, but I told them I wouldn't help, and that I was staying. They replied, if you're staying then we're also staying. Then about 4 or 5 people from Zichron Ya'akov came to me and said that you, your family, your village, you shouldn't leave. Help us – go tell the inhabitants of al-Tantura not to fight. I went to Tantura and told them that if they don't fight nothing will happen to them and they'll be able to remain in their village. They told me that I'm not their mukhtar, that I can't tell them what to do. I returned to Jisr a-Zarqa and told everyone not to leave; that's how we remained here."

Sami:
One man from Jisr, my uncle, happened to survive the massacre at Tantura. He told us that he was made to stand in a line together with people from Tantura and they were shot. The gun jammed and he was saved. One of the officers knew the mukhtar, who was his father, and told him "run for your life." He fled and was saved, but his hair turned white when he was 18.

Dr. 'Adel Mana:
Why did relatively many localities survive in the Galilee, and very few in the valleys and the coastal plain? Today there's no disagreement – at least among historians – that there were dozens of massacres and dozens of expulsions in order to get rid of the Palestinian population in 1948. These were carried out not only in Deir Yassin or by the Etzel and Lehi. The Palmach and Hagana began to undertake them in December, 1947, in Khisas and continued until the end of the war, and also after it was over. There's also no disagreement that civilians flee for their lives during wartime, particularly if people are frightening them and carrying out massacres, but refugees usually return, or are permitted to return, so with respect to the refugees the main point is that they weren't allowed to return, and there's no disagreement about that fact either. Israel decided not to permit the Palestinians to return to where they'd lived, and that's how they became refugees. I won't discuss how people became refugees, but will talk about those who survived the expulsion, which aimed to leave as few Arabs on as small an area as possible.

Were the Palestinians no more than victims of the expulsion project?
What's the argument about? Whether there was an overall plan to expel Palestinians? Did some authorized body decide that the war provided an opportunity to implement the idea of transfer that had already been raised in the 1930's? Some say yes, others say no. There's an argument over whether, as Ilan Pappe believes, Plan Dalet was actually a plan to expel the Arab population, or whether, as other Israeli historians believe, it wasn't. They see it as a plan to prepare Israel to confront the Arab armies, which was why it was necessary to capture the localities, but it wasn't a plan for ethnic cleansing. I won't get involved in that argument. You'll note that it focuses on intentions. There's no disagreement about the result. I want to begin with the result, to examine who remained, and why more people remained in the Galilee than in other areas. What I have to say is based on a book I've been working on for five years, and on things I began thinking about 60 years ago when I was in the fourth grade and we celebrated Israel's independence day at school, and at home I heard about the massacre carried out in Majdal al-Kurum. I was expelled as an infant, along with my parents, to Lebanon; we returned two years later. I interviewed victims, people who shat their pants when they saw their friends being killed one by one next to the spring in the center of the village. So the question is, how did they survive the nakba in the Galilee? For Pappe and Morris the Palestinians are victims, not subjects, they're the object of history, they have no role of their own, they're only the victims of the act of expulsion. For me, they're agents of history who participate in determining their fate.

By May, 1948, almost all the area allocated to the Jewish state had been conquered, other than the Negev, which was conquered later, in October, 1948. In the areas of the eastern Galilee which had been allocated to the Jewish state and that were conquered by May, 1948, during the period when the Palestinians were totally unprepared for war and before the intervention of the Arab armies, almost no Arabs remained. Only Tuba-Zangariyya and the Circassian village of Rihaniyya remained; both joined the Zionist side during the war so they weren't viewed as enemies, as Arab. The villagers of Khisas, on the other hand, who had been sent to Wadi Hammam, were expelled - even though seven sons of the sheikh had fought alongside the Haganah in April, 1948 – so they wouldn't be left on the Lebanese border. Only four villages remained in the Hula Valley, in the central Galilee south to Tiberias, and west to Beit Shean and the Jezre'el Valley – the Zouabiyya villages. That's because in January, 1948, their leader, Seif a-Din Zouabi, reached an agreement with the Haganah and its intelligence branch. The Zoabiyya provided intelligence to the Haganah, cooperated with the Keren Kayemet (Jewish National Fund) and also provided intelligence about the Arab Liberation Army in the area. They were of service to Israel; in return, their villages were allowed to remain.

Two Druze villages which had been cooperating since the 1930's – Isifiyya and Dalyat al Carmel –were left in the Haifa area. They had bought weapons in Syria for the Haganah and provided intelligence. All the villages along the coast were razed except for Fureidis and Jisr; farmers in Zichron Ya'akov and Binyamina needed them as workers. Farther south along the coast was Majdal – today's Ashqelon – some of whose inhabitants remained until 1950 when they were expelled. The war ended, but the expulsions continued.

Beginning in July, 1948, in particular following the expulsions from Ramleh and Lod, the Palestinians understood that the Jews had decided that Palestinians who had left would not be allowed to return, so they had to do everything to avoid leaving. Most of the Galilee was captured in two operations: Operation Deqel during the ten days of fighting in July, 1948, and Operation Hiram at the end of October, 1948. I noted that by May, 1948, almost no Arabs had been left in the areas captured by Israel. In June a change occurred in the Akko area. A number of villages were captured, and efforts were made to allow Arabs to remain. At the beginning of the war, the Arabs thought that defenseless civilians could flee to save themselves, and then return. As time passed they saw that those who were forced to leave weren't allowed to come back. They began to see things differently, to understand that if they left it would be forever.

The Druze came to an agreement. They had fought in a battalion of the Arab Liberation Army in the Shefa 'Amr area – a notable battle in which Moshe Dayan's brother was killed, along with dozens of Jewish and Druze fighters. After the bloody battles at Mishmar HaEmeq against Qawuqji's forces when the Arab armies failed to defeat the Israelis, the Druze leaders approached the Jews with a proposal. Their instinct for preservation told them who'd win and they signed an agreement with the leadership of the Yishuv in which they agreed not to fight against the Jews, and were promised in return than no Druze village would be harmed.

Eitan:
Did the Druze in the Arab Liberation Army also stop fighting the Jews?

'Adel:
Yes, the entire battalion was disbanded. The Druze in Israel joined the Haganah and participated in the conquest of Akko and the western Galilee in June, 1948. July, 1948, was a very important month. In my view, as an historian, that's when the history of Arabs in Israel begins. Nazareth, the only Palestinian town that survived, is captured but its inhabitants aren't expelled. Only because they're Christian? The population of Eilabun was Christian but there was a massacre there and everyone was expelled. I think there were a number of reasons that Nazareth survived. A week before Nazareth was captured, 50,000 people were harshly expelled from Ramleh and Lod, including the massacre in Lod's Dahamash mosque. More than 100 people were killed inside the mosque. People had fled to the mosque because they thought they'd be safe in a house of worship, but rockets were fired into the mosque and the bodies of those killed were plastered against the walls. The mosque was then sealed; a few weeks later they began removing the bodies for burial. A horrific story. The expulsion from Ramleh and Lod occurred on the hottest day in 1948. It was during Ramadan, people were expelled on foot, on a day they were fasting when the temperature was 38 C. (100 F.). They reached Ramallah and Jerusalem through the hills; 20 elderly people died on the way from exhaustion and thirst. That event led to an outcry in the international media. Mapam ministers even complained to Ben Gurion, asking whether he'd given the order. Ben Gurion said he hadn't. This disastrous event formed the backdrop to the capture of Shefa 'Amr and Nazareth on July 11 and 12, 1948. As a result, this is the only time that Ben Gurion issues an order to IDF commanders in his capacity as Minister of Defense that they're forbidden to harm the residents of Nazareth and the town's houses of worship. A soldier who violates this order should be shot, he wrote. And that's how it was. This proves that had he wanted to avoid harming Palestinians he could have done so. So, by July, 1948, the Palestinians already are aware that whoever leaves won't return. The Arab Liberation Army leaves Nazareth, heading north, because it knows it won't be able to hold out against the IDF. Abbas, its commander, tells the inhabitants of the city not to follow him because the Jews won't allow them to return to their homes. And the entire Christian world was also waiting to see what the Jews would do after what had happened in Lod and Ramleh. And there was also a Canadian Jew, Ben Dunkleman, a British army general, who'd come to help Israel in the war. He commanded the forces capturing Nazareth. As he approached the town he called for the mayor to meet him at the police station at the house of the Jasser family. They signed the surrender agreement that had been prepared in Hebrew and in Arabic. It stated that the inhabitants of Nazareth were citizens of Israel and would not be harmed. But 24 hours later, Laskov and Carmel order Dunkleman to expel the residents of Nazareth. He refuses, tells them that only on the previous day they'd signed an agreement which doesn't permit their expulsion. They insist he expel them; he asks them for a signed order from Ben Gurion. Ben Gurion refuses, orders that the residents of Nazareth be allowed to remain. That's how Nazareth and an additional 20 villages in the area survived, and then the second cease-fire went into effect. No explicit commitment had been made to the European countries, but there was great apprehension about the Vatican's reaction, particularly after what had happened in Ramleh and Lod.

The Galilee is in our hands, but it still has too many Arabs
The period of the ten days of fighting is the first time Israel behaves differently. Mapam is exhilarated. The headlines in Al HaMishmar enthuse: "Hearts were conquered along with the land;" "Let's hope that Ben Gurion learned a lesson in the wake of Lod and Ramleh and will behave similarly elsewhere." After Nazareth, the other residents of the Galilee thought that if Nazareth was allowed to remain, they too had a chance of surviving. Ben Gurion had other plans. A few days ago, Tom Segev published in Ha'aretz the minutes of a cabinet meeting from September 26, 1948, prior to Operation Hiram, in which he requests that 100,000 Palestinians be expelled from the Galilee. He proposes to capture the entire area from Ramallah to Hebron, as well as Latrun, in order to renew the fighting. Prior to the capture of Nazareth, only about 10,000 Palestinians remained in the territory of the Jewish state, but its capture suddenly added another 60,000. Ben Gurion fears that capturing the Galilee will add an additional 100,000 Palestinians. The cabinet is opposed, Ben Gurion is in the minority in his proposal to expel 100,000, but it's only a temporary delay. The cabinet was opposed because Bernadotte had been murdered a few days earlier, on September 17, 1948, and Israel is under severe internatlonal pressure. The Americans accuse Ben Gurion of wanting to capture additional areas, and he's afraid of the international response to additional conquests and expulsions. During the sixty hours of Operation Hiram, sixty villages are captured without a single Jewish soldier being killed. Only in the Druze village of Yanuh were a number of Jewish soldiers killed by Druze, accidentally. On the other hand, hundreds of Palestinians were killed. Planes fired on villages before the army entered. In Tarshiha, for example, Abie Natan was one of the pilots who dropped bombs. I interviewed the family that was bombed. People in the house were burned when [olive] oil caught on fire. The same was true in the villages of Rame, Mi'ar and Majdal Kurum. Planes from Czechoslovakia helped Israel win. The army entered, most villages surrendered, flew white flags, but the army still went from place to place expelling people. Fourteen massacres were carried out during Operation Hiram, out of the 24 referred to by Benny Morris. Fourteen massacres carried out during one week of Operation Hiram in a region where the IDF was opposed not by a regular army but by civilians. That happened because Ben Gurion wanted the Galilee free of Arabs. But even so, after the Galilee had been conquered, 30,000 Palestinians still remained. Ben Gurion wrote in his diary: The Galilee is in our hands but it still has too many Arabs. He orders Moshe Carmel to clear the Galilee, to cleanse it. The Palestinians who remained did so because they now realized that whoever becomes a refugee won't return. Some were already refugees in Lebanon, had experienced what it was like to be a refugee, the disrespect of the Arabs because someone without a house or land has nothing, is homeless, rather than being proud, productive, working the land.

The geography and topography of the Galilee also helped. In other areas of the country there's nowhere to hide, but in the Galilee people hid in the wadis and caves, so some avoided expulsion. Some Druze worked for the IDF and helped catch refugees, but there were also some who were paid by Palestinian refugees to help them remain in the country. My father returned to Shavei Tzion and from there to Majdal Kurum. Palestinians, then, weren't only victims; they also made an effort to survive; they weren't simply herded from one place to another.

Ya'akov:
What's the title of your book? In what language is it?

Adel:
"Optomists: The story of Arabs in Israel, 1948-1956," in Hebrew. It will appear in a year and a half.

Eitan:
Regarding the Druze – they weren't expelled from the Golan in 1967 either, even though everyone else was expelled. Maybe that was part of the agreement with them in 1948.

Adel:
I don't have any information about that.

Eitan:
So, Adel, what you're saying is that the localities that remained in the Galilee did so because they insisted on staying despite the fear and attempts to expel them, right?

Adel:
Yes, the IDF did research on it. Moda'I, the former Minister, when he was a Master Sergeant in the army's history branch in the 1950's, prepared a study of how it happened that Arabs remained in the Galilee, particularly after Operation Hiram when great efforts were made to make them leave, but they remained nevertheless. What mistakes were made? He wrote that Arabs remained despite everything the IDF did to expel them. Ben Gurion hoped that many would flee, but that's not what happened, which is why he was disappointed.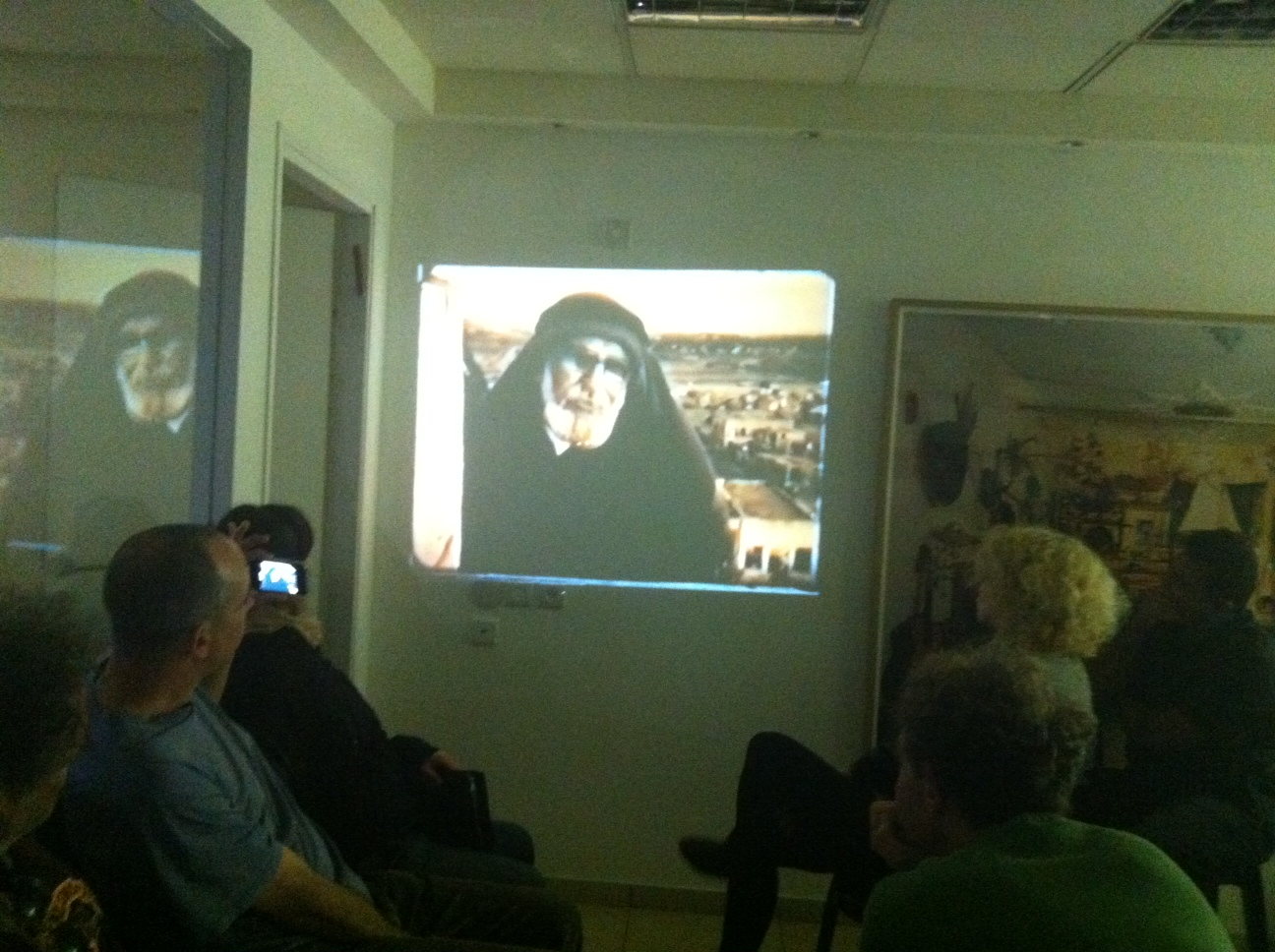 ערב העיון על למה שרדו את הנכבה / A discussion on how they survived the Nakba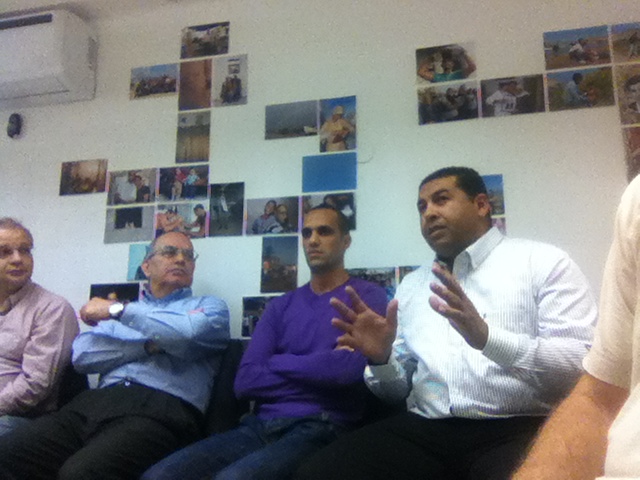 ערב העיון על למה שרדו את הנכבה / A discussion on how they survived the Nakba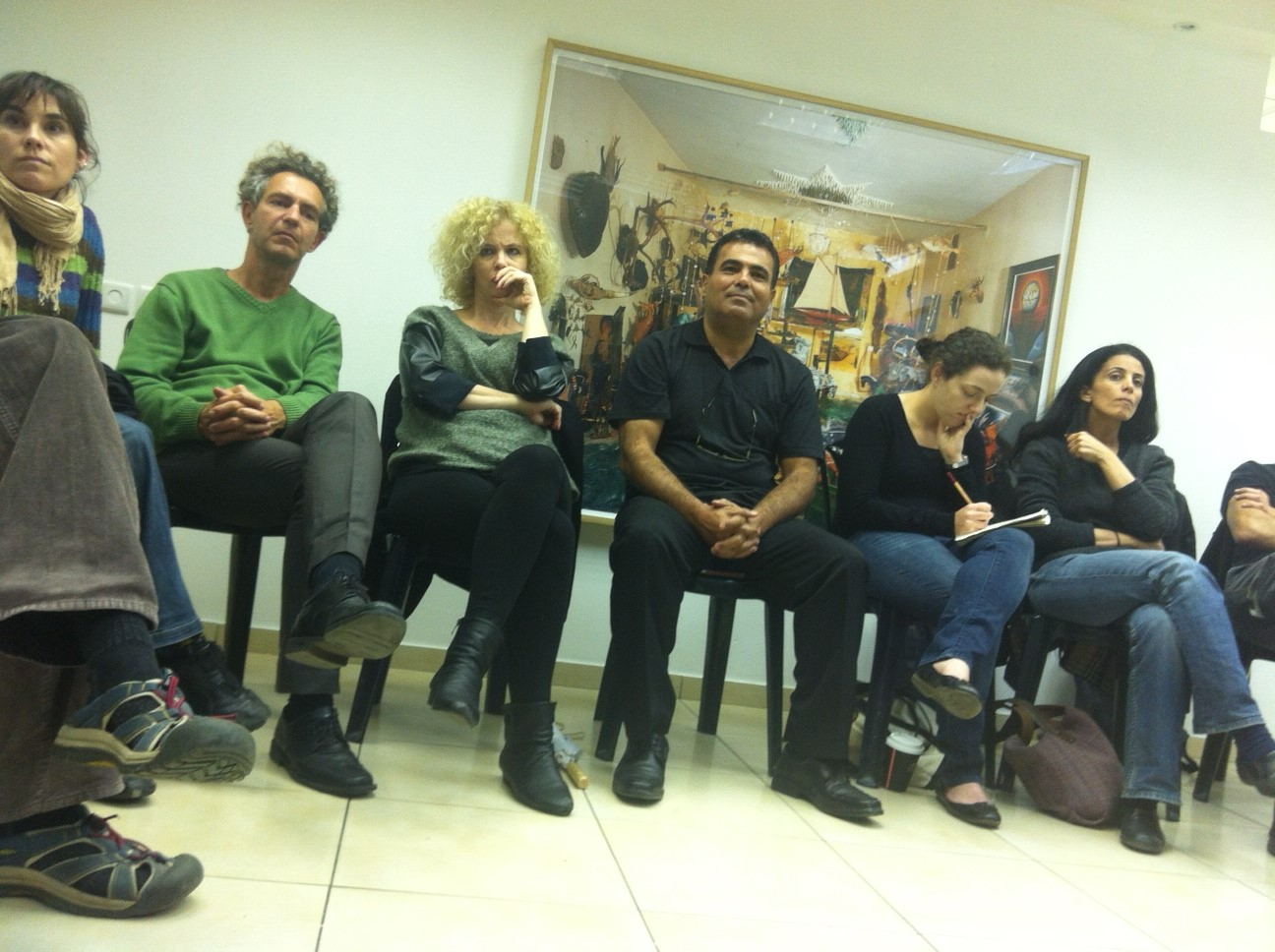 ערב העיון על למה שרדו את הנכבה / A discussion on how they survived the Nakba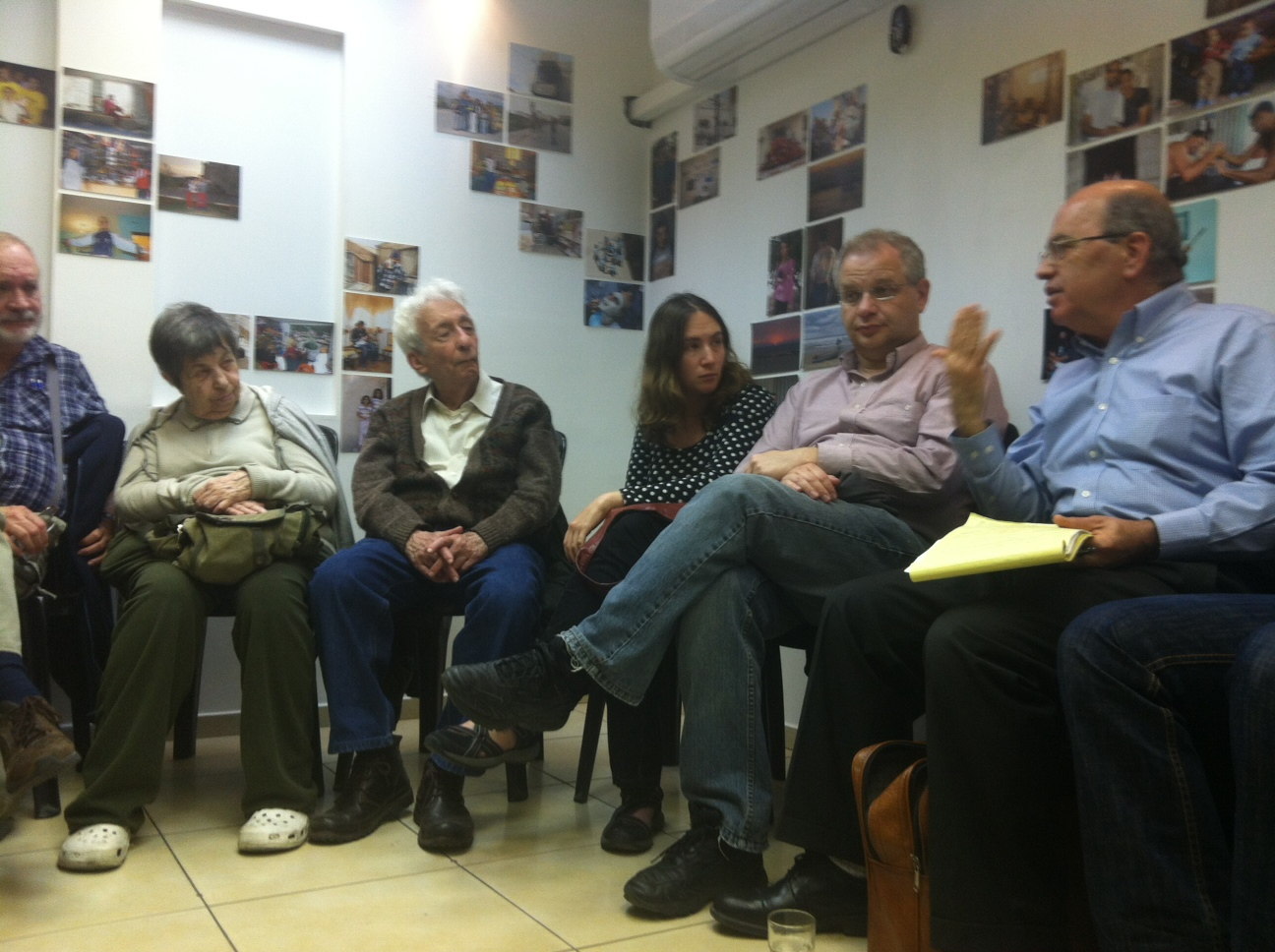 ערב העיון על למה שרדו את הנכבה / A discussion on how they survived the Nakba