Saturday | September 17, 2022 | 10:30-13:30
Zochrot Invites you to join our tour to Ma'lul. On this tour, we will walk through the ruins of this depopulated village and learn about its history, which was cut short by the State of Israel in July 1948 when it occupied it and uprooted its inhabitants. We will meet with members of the second and third generation of internally displaced persons from the village, who, together with their parents and grandparents, have been prevented from returning to Ma'lul since they were displaced 74 years ago. Nevertheless, they maintain contact with the village and insist on their right to return. We will gather in one of Ma'lul's surviving churches and discuss the struggle for changing awareness, remembering the past, and activism for future return.
We will arrive at the site of the village, which has been erased from maps and space, using Zochrot's iReturn upgraded application, a new digital tool that not only enables locating depopulated and erased Palestinian localities, but also helps imagine returning to them. The application retains the location of the village as appearing in pre-Nakba maps of Palestine, provides information about it, and guides visitors to it. It also enables every user to add information, texts and images, and share experiences of uprooting, return and participation in the process of political change.
The village grounds are concealed by the Jewish National Fund's Kfar HaHoresh Forest, to the north of Highway 75, between Kibutz Kfar HaHoresh and Timrat, opposite al-Mujaydil (today, Migdal HaEmek).
Meeting point: Entrance to Ma'lul
The 2km route is of medium difficulty.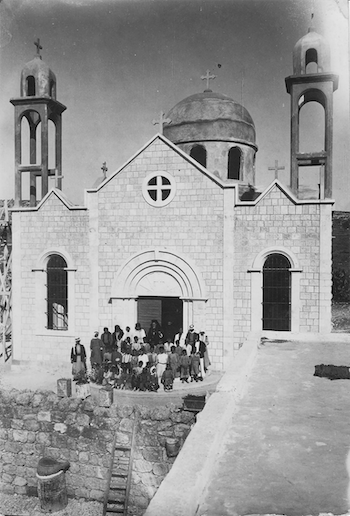 Make sure you have enough water. Wear a hat and shoes suitable for outdoor hiking.
Guide: Umar al-Ghubari | Zochrot
The guidance will be in Hebrew. Arabic and English interpretation will be provided as required.
Transportation will leave from the Tel Aviv Central (Arlozorov) Train Station at 9:00
To participate and book the transportation, please register here.
For further information, please contact tours@zochrot.org or call Umar al-Ghubari at 052-8743099.
We will appreciate your participation in the tour's expenses. Recommended payment for Zochrot: NIS 50 or as much as you can afford. You may pay in the form of a donation on our website.
Join our community: Donate monthly to Zochrot so we can extend our activism, continue to challenge the discourse and promote political and cultural transformation for a more just future.