We met the people of Mi'ar in the village of Kabul, a small group in three cars. Already in the meeting place on the wonderful green background of the Galilee, Hayibi Zaki pointed to the eucalyptus grove. Here was the village of Damun. The sabra bushes peeking out from between the eucalyptus trees are the only testament to its past. The planting of eucalyptus trees in the place that a village once existed is a policy that we encounter time and time again. It is interesting how the proud and steadfast eucalyptus trees acquire a new meaning, how they became a monument to the Palestinian tragedy.
We entered the village of Mi'ar through a paved road, at the bottom of which was a wooden, yellow-lettered sign asking passersby to keep the place clean. It was signed "Jewish National Fund." That is also the body responsible for the comfortable wooden benches used for picnicking. There is no way that people coming upon this area could know that they were resting on the lands of Mi'ar.
The cemetery of the village once covered a large area, Hayibi Zaki tells us. The gravestones are very impressive. The engraving is still legible on one of them.
Hayibi Zaki is the only one of our chaperones who was born in the village. At the age of six he was expelled together with his family. Today he lives in the village of Kabul. Some of the Mi'ar refugees reached Syria and Lebanon and others, such as our hosts, live in other villages in the area. Until today they are considered guests in these villages.
Sharif Abu Dauf, nicknamed Abu Amar, was not born in Mi'ar. He only heard stories about it. Today he lives with his family in Sha'ab. On the way he pointed to a water well. Abu Amar came up to it and threw a stone to check whether there was any water left. The well had gone dry.
The chrysanthemums were in full bloom, everything was so lovely: The greenery, the intoxicating scent, and the pleasant air. The disparity between the amazing surroundings and the difficult stories was very large. The village of Mi'ar was destroyed twice: The first time by the English in 1938, the second time by members of the Hagana in 1948. The residents of the village were forced to see their houses destroyed twice in the span of 10 years. The reason for the destruction: about forty rifles that were found in the possession of young people who fled to Lebanon at the beginning of 1948.
The village covered a very wide area. Today there are a number of Jewish communities that are situated on the lands of the village: Yodfat, Misgav, Ya'ad, and Atzmon. And still, on some of the lands of the village there are no Jewish communities.
Abed Namrani was not born in the village; he is a second generation to the uprooted residents of Mi'ar. He has in his possession numerous documents, an aerial photograph dating from 1946, and countless stories that he meticulously collects. Documenting the village has become a project for him: He records, writes, and researches. Among other items Abed showed us a book that was held by the sheikhs of the village, in which the history of the village was written, in hand, over several generations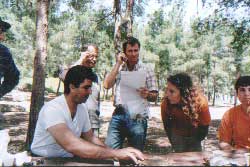 Miar Tour 2002 (2)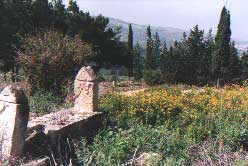 Miar Tour 2002 (6)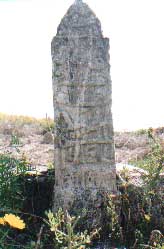 Miar Tour 2002 (1)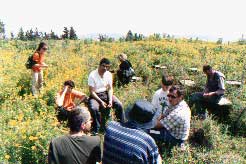 Miar Tour 2002 (5)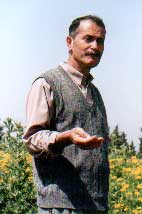 Miar Tour 2002 (4)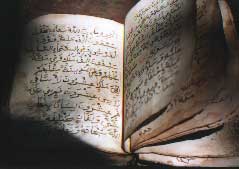 Miar Tour 2002